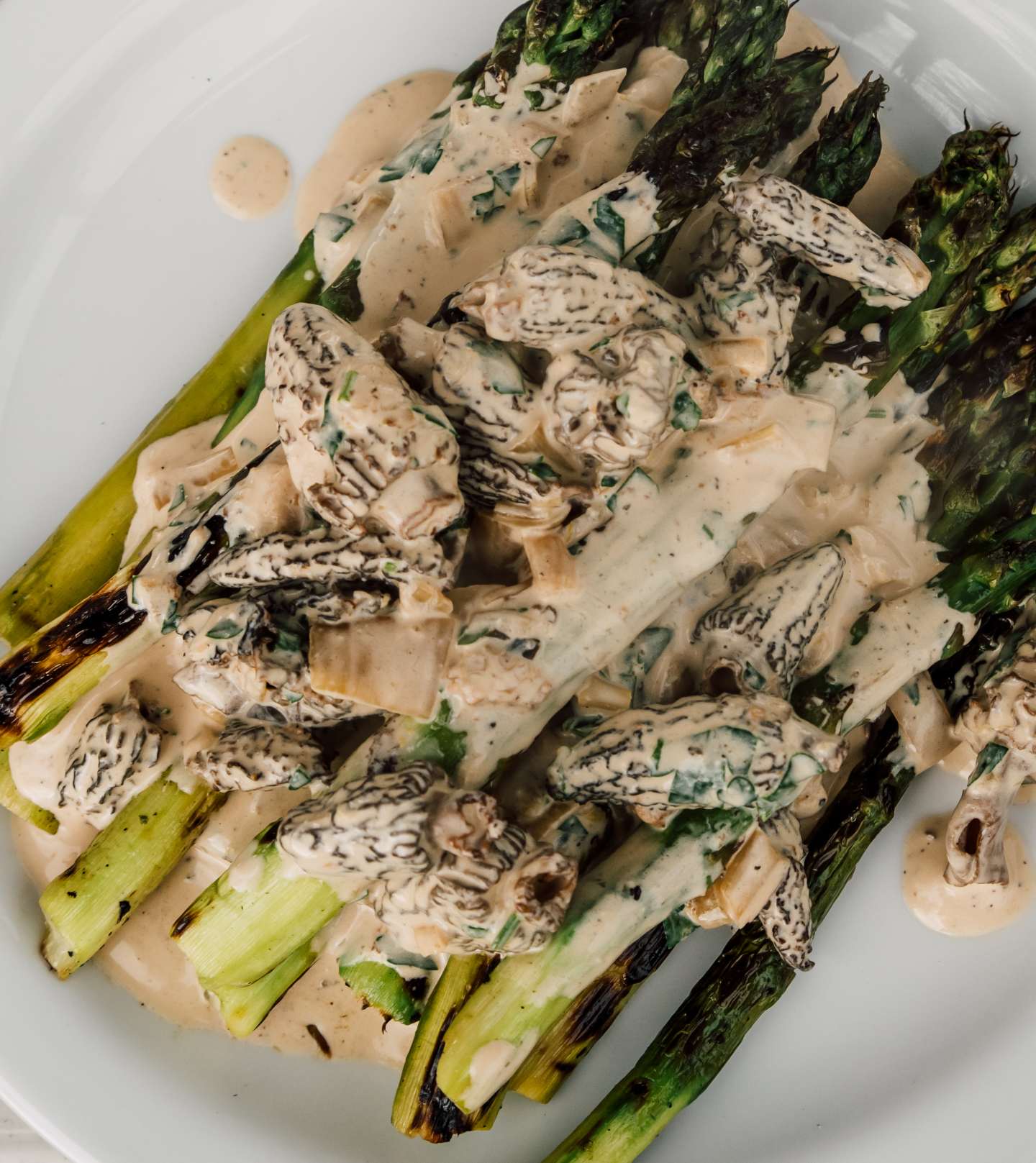 Asparagus with Morel Mushroom Sauce
INGREDIENTS
1 lb. fresh morels (if fresh aren't available, 5 oz. dried morels rehydrated with hot water)
2 cups heavy cream
1 cup dry white wine
1 sweet onion, diced
6 garlic cloves, peeled and chopped
½ cup fresh chives, chopped (parsley is a fine substitute)
1 lemon, zested and halved (save lemon for finishing)
1 tsp fresh cracked black pepper
2 tsp sea salt
2 Tbsp good olive oil, plus some for finishing
2 Tbsp unsalted butter
2 lb. fresh asparagus, bottoms trimmed
The right recipe is a constant expression of what is around you. Don't feel obligated to use morels. Chanterelles, oyster mushrooms, or almost any other wild or cultivated mushroom works just fine.
INSTRUCTIONS
FOR THE MOREL SAUCE:
Cut the morels into halves or quarters lengthwise depending on size. If you're using fresh morels, check for worms and dirt. Give them a quick soak if necessary to clean, but don't let them soak too long: they tend to become waterlogged and won't caramelize in the pan. Nice big chunks of mushrooms are key.
Mince the sweet onion and peeled garlic, or pulse them in a food processor.
Put a medium-sized saucepan on medium heat. Add the olive oil and butter. After a minute or two, add your morels. Stir sparingly for 4–5 minutes until they release a nutty smell and begin to brown. Add the minced onion and garlic and sweat for 3–4 minutes.
Add the white wine and allow to reduce until the pan is almost dry, 6–7 minutes.
Add the cream and black pepper and simmer for 8–10 minutes. Remove from heat and stir in the sea salt and lemon zest.
FOR THE ASPARAGUS:
Snap off the bottom ¼ of the Asparagus. If you hold the middle of the asparagus in one hand and the bottom end in the other and allow it to break where it wants to, you'll be left with only the most tender parts of the stalk.
You can cook the asparagus a number of ways for this recipe. Since we already had the grill fired up for steaks and sausage, we chose to grill them. Toss the asparagus with olive oil and a pinch of sea salt. Blister them on the grill for 3–4 minutes.
TO SERVE
Pile the asparagus onto a large serving platter, cut the zested lemon in half and squeeze the lemon juice all over the asparagus. Spoon the warm morel sauce generously over the top. Finish with chopped chives or parsley.