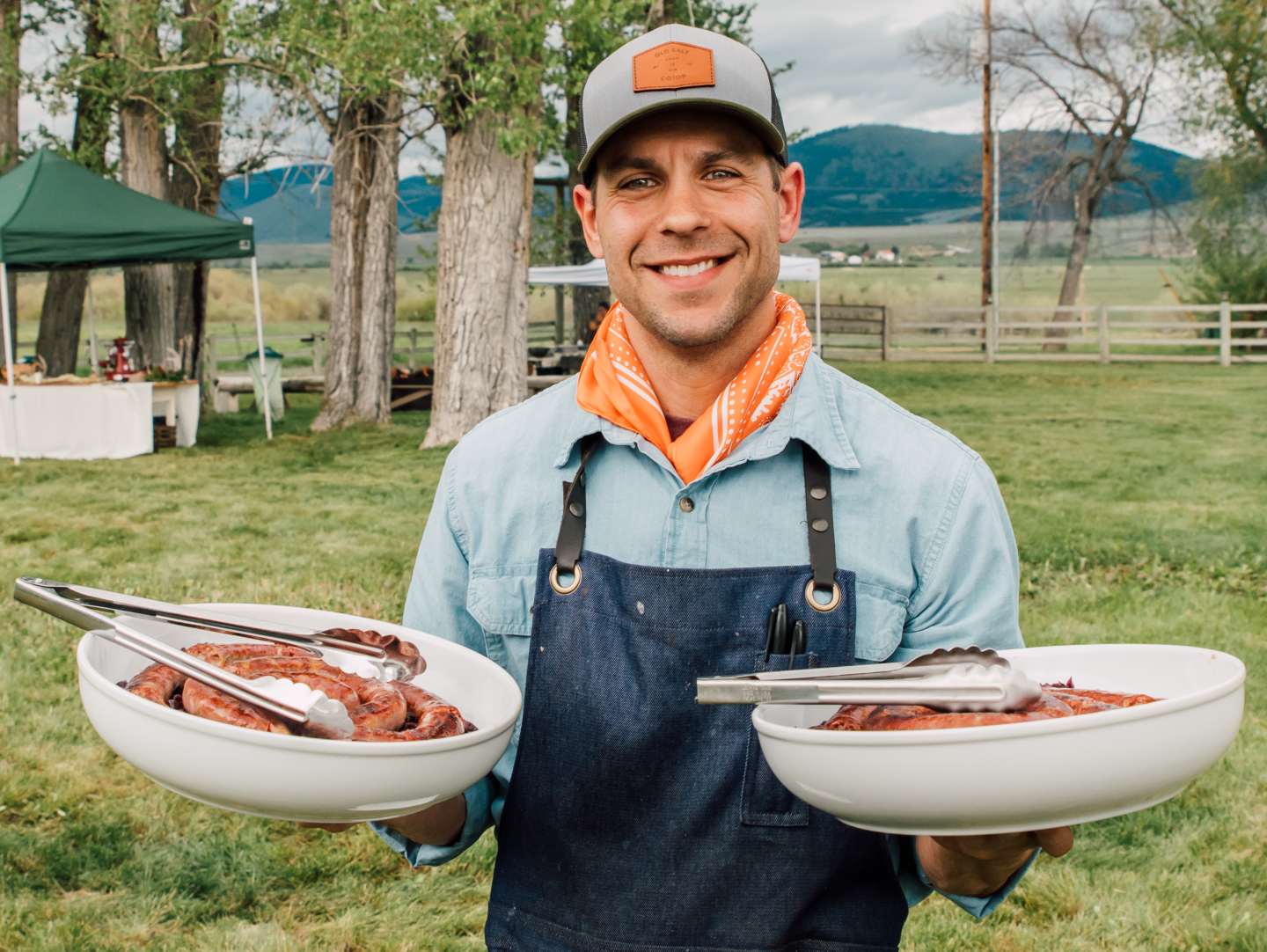 Smoked Sausage with Soured Cabbage
INGREDIENTS
2 lb. kielbasa-style sausage (or fresh bratwurst)
3 lb. (1 large head) purple cabbage, cored and sliced into ¼-inch ribbons
1 large red onion, halved and sliced thinly
1 lb. thick-sliced bacon
1 whole head of garlic
1 cup red wine vinegar
2 tsp cracked black pepper
1 tsp ground celery seed
1 Tbsp fresh thyme, chopped
2 Tbsp honey (or maple syrup or brown sugar)
Sea salt to taste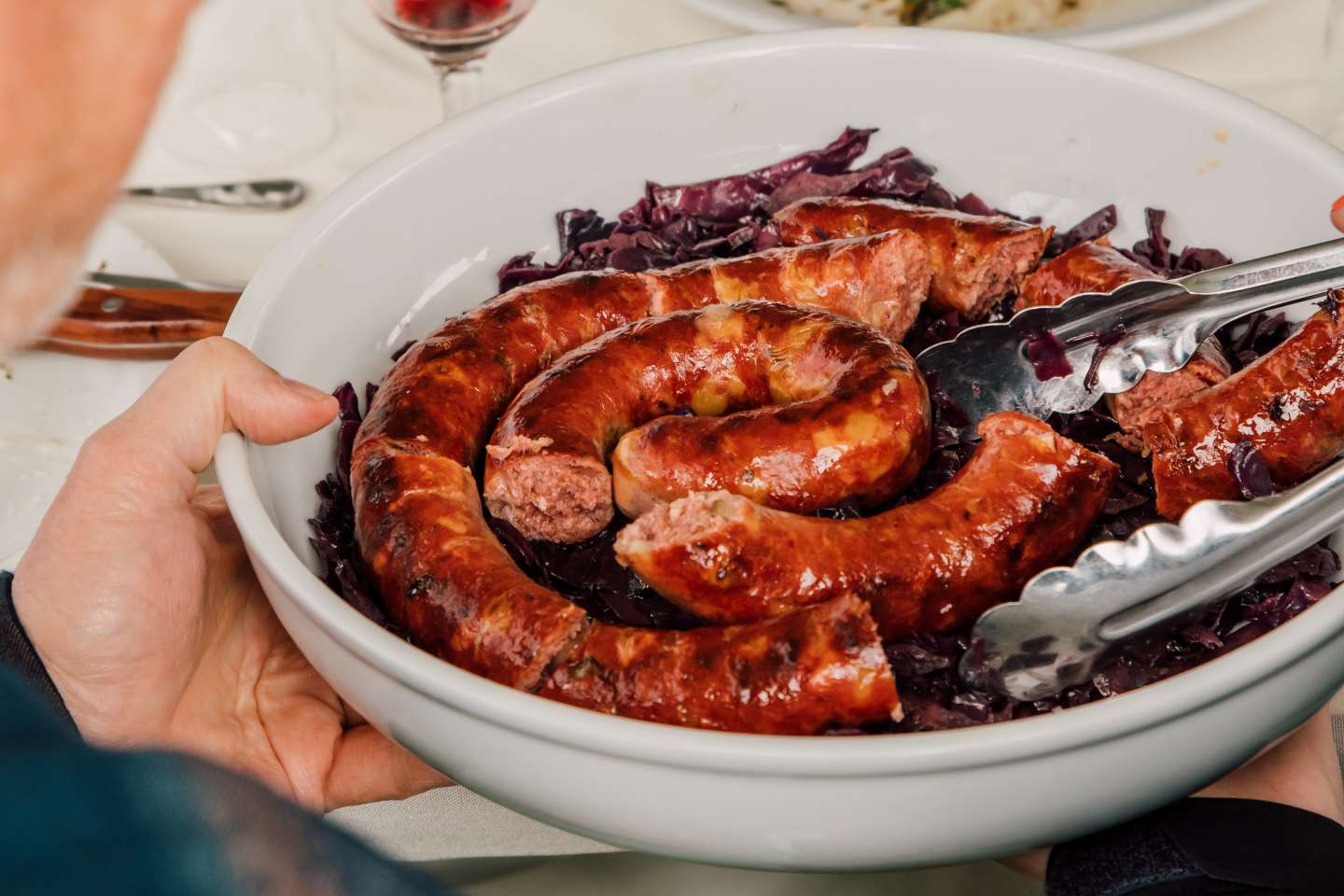 INSTRUCTIONS
For the sausage:
For this recipe, we use a Kielbasa-style smoked pork and beef blend sausage that is charred on the grill. Fresh bratwurst or German-style garlic sausage works just as well. If you choose the latter, we recommend poaching your sausages in beer or water seasoned with pickling spices (bay leaf, allspice, black pepper, chili flake and coriander) until the internal temperature of the sausage reaches 155 degrees F. Let them cool and then char them on the grill for a few minutes on each side. The poaching helps to prevent the casing of the sausage from burst-ing under the high heat of the grill.
For the Soured Cabbage:
This recipe works best if you get all the vegetables cut up and ready to be cooked so that you can add all the ingredients into your hot pan in a timely manner. The last thing you want to do is try to chop the garlic in the middle of the cooking process.
Quarter the head of purple cabbage and remove the core. Slice into ¼-inch strips. Set aside in a large mixing bowl.
Peel and slice the onion into ¼-inch slice sand add to your bowl of cabbage.
Cut bacon into ¾-inch wide pieces. Set aside.
Peel and roughly chop the garlic. Set aside.
Pick and chop the fresh thyme and set aside.
Grind the black pepper and celery seed in a spice grinder or with a mortar and pestle.
Using a large sauté pan or Dutch oven, place the bacon in the pan over medium heat, stirring occasionally for about 8minutes or until nicely browned.
Add the chopped garlic, thyme, pepper and celery seed and stir frequently for 2 minutes until the garlic is fragrant and starting to brown. Remove the bacon and spice mixture from the pan to a bowl using a slotted spoon, leaving the fat behind.
Place the pan back on heat and turn up to high heat. Add the sliced cabbage and onions and cook, stirring occasionally, for4–5 minutes.
Add a large pinch of sea salt and the honey or sweetener of your choosing. Quickly add all the vinegar, taking care not to let the steam burn you. Keeping the heat on high, stir frequently for 6–8 minutes until the vinegar has cooked down and the cabbage begins to coat in glaze.
Turn the heat to low and add the bacon and spice mixture back into the pan. Give it a taste and adjust the seasoning to your liking, adding salt, honey or vinegar to taste.
Serve the sausage atop the cabbage.