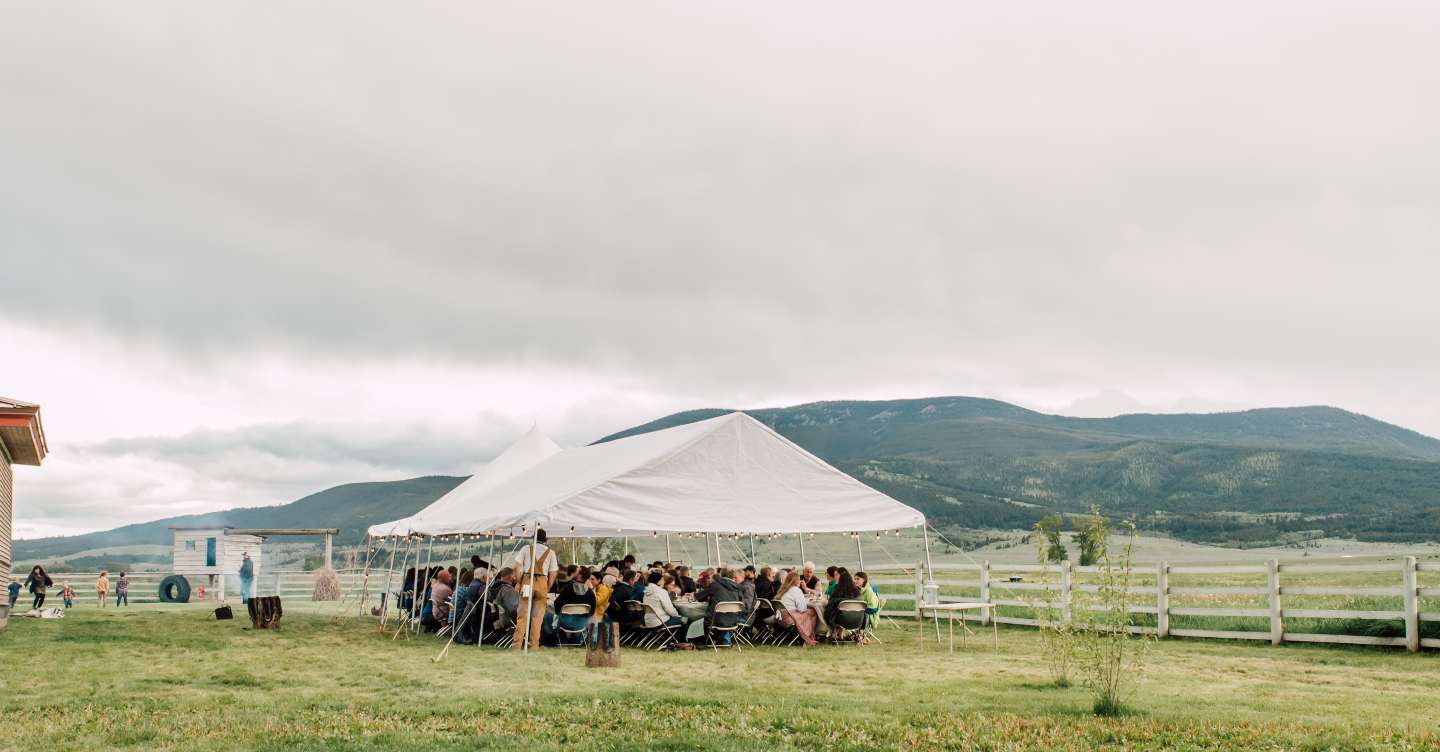 You Never Eat the Same Meal Twice
THE STEWARDS AND CHEFS OF OLD SALT ARE WORKING WITHIN THE BOUNDARIES OF TIME AND PLACE TO PRODUCE TRULY UNIQUE FOOD. HERE, THEY HOPE TO INSPIRE YOU TO MAKE A MEAL THAT IS TRULY A ONCE-IN-A-LIFETIME EXPERIENCE.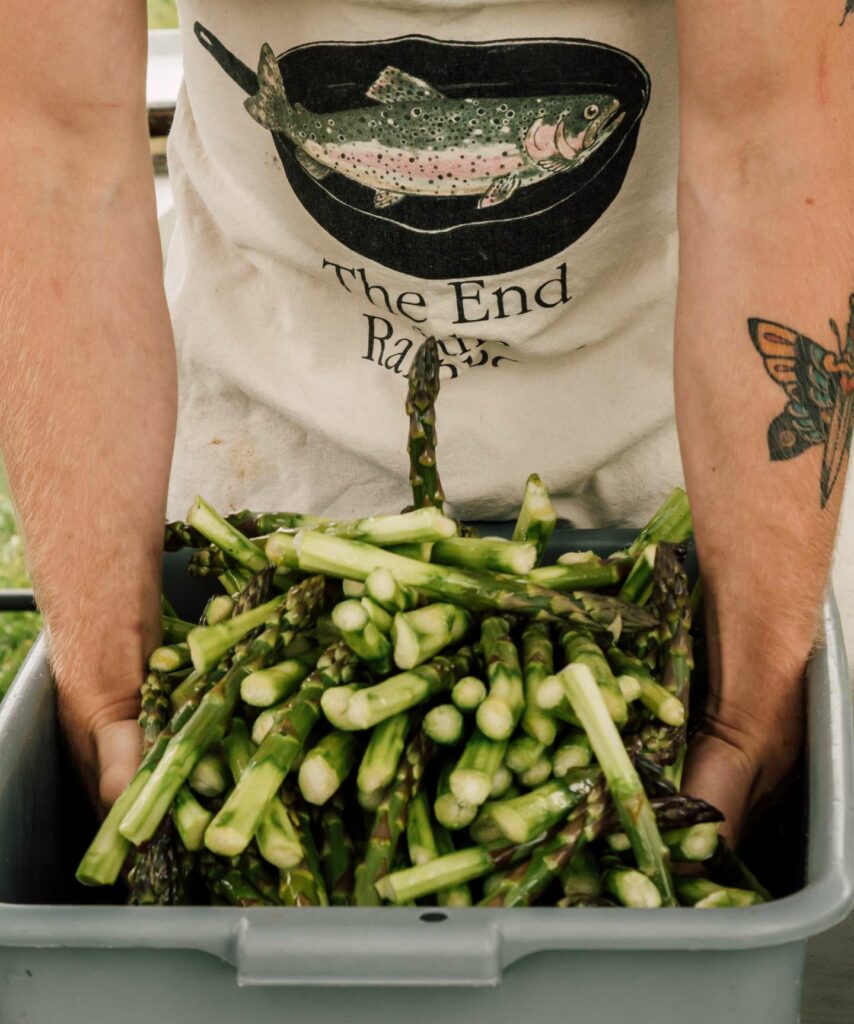 It's June 11, 2022, in Helmville, Montana, a small ranching community with a population of 97. The temperature is a cool 55 degrees at seven in the morning, and the light drizzle that will last well into the afternoon has just started. On the mountainside, high up the peaks of the Garnet Range, I'm harvesting wildflowers. Lugs of recently cut top sirloin cap and hangar steaks have made their way back home to the ranch from the meat processor. Bundles of cherry firewood from the Flathead Valley are being stacked meticulously for the fire that will burn all evening to cook enough food for 105 guests at the Mannix Ranch in the Blackfoot Valley.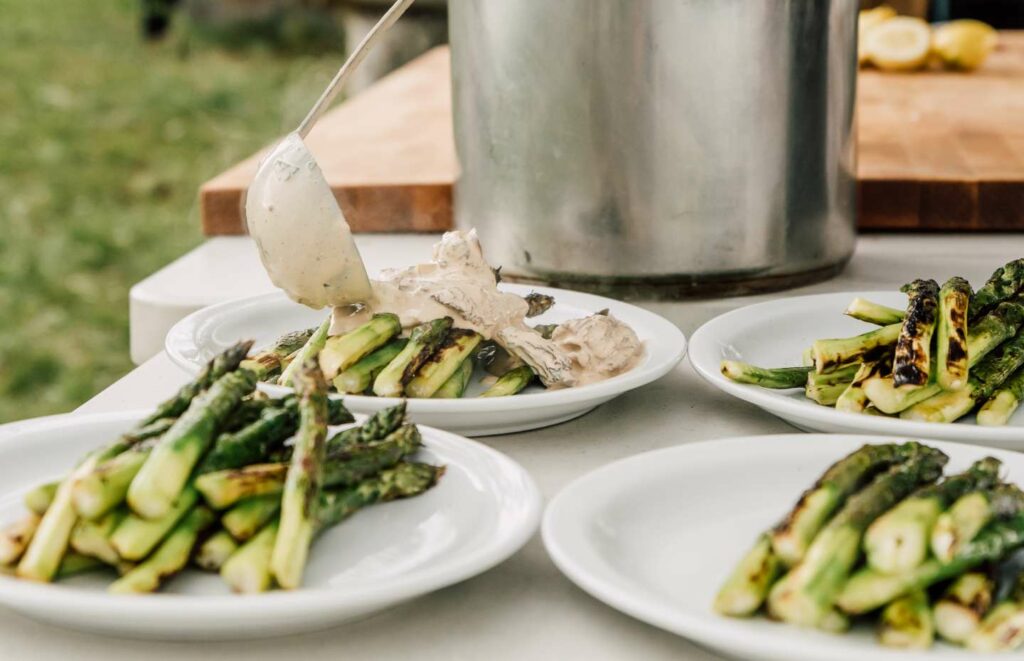 This is Old Salt, a vision Cole Mannix has been developing for almost a decade: to regionalize and localize meat in Montana again, thus reconnecting the stewards of land to the families here, instead of shipping their animals east to end up as an anonymous product in a generic grocery display. Old Salt is countering that formula by offering direct-to-consumer meat to locals, from regional, family-owned ranches. For Mannix this is about meeting people where they eat—whether at his fast-casual smash burger option, Old Salt Outpost; the soon-to-be Butcher's Table restaurant with wood-fired fare; the custom meat slaughter and process-ing business, Old Salt Meat Company; or a picture-perfect summer community dinner right on his family ranch.
For generations, ranchers have enjoyed their own meat at nearly every meal. More than a passion, it is convenient, and keeps waste to a minimum. Their meals generally include lots of ground meat, less popular cuts and products that aren't quite prime for customer purchase. But this evening was different. For this dinner the ranchers got to enjoy, celebrate and showcase their prime steaks – grilled over open flames and then proudly passed around to friends and family. Andrew Mace, the culinary and marketing director for Old Salt, foraged fresh morel mushrooms on his way back from a trip to Oregon.
He seasoned and then air-dried Mannix Beef eye of round for three weeks to prepare it for a unique spin on the Italian country classic bresaola. Our team has arranged the wildflowers into loose bouquets set out on the long tables as a seasonal timestamp, a riotous celebration of the land that made it all possible.
The ranchers engaged with their customers while passing plates of asparagus with morel sauce and top sirloin cap, grilled and topped with fire-kissed rosemary sprigs. The feast continued with braised chuck, nettle dumplings, a slew of pickled and fermented vegetables from Andrew's garden and beef liver pâté, a recipe passed down from our meat director, Kent Schoeberle. Meanwhile, cattle grazed on alfalfa 100 yards away from the diners, and a fire crackled happily. Guests carried their cocktails to the fire to find warmth and rebuild their appetites for the next bites. As each course went out, the sun dipped just a little lower over the Hoodoo Mountain peak. By dessert the moon and fire reigned, and all around were murmurs of fulfillment and satisfaction.
From early that morning until well past sundown we had worked to prepare and serve this happy feast. It was an arc that mirrors a much larger one: generations of the Mannix family have worked on the land each day, season after season, preparing a feast of healthy soil, plants and animals they share with all their neighbors, human and otherwise. Combined, these rhythms made this particular moment in time an irreplicable experience for the community who ate, laughed and shared in it, doing so in the company of the land, people and animals by which it was provided.
The experience we all—ranchers, cooks, guests—created from this menu, this time, these conversations and laughter and this place simply can't be repeated. But isn't that the point? So much of our food system is built on the blandly repeatable, the predictable, the sterile and the impersonal. Convenient and reliable, sure, but with limited integrity and mostly memorable. This meal brought out what I believe makes eating local truly special: each meal becomes a once-in-a-lifetime experience.
Sarah Knight is a chef, land steward and butcher. All things pertaining to these worlds are her passions.