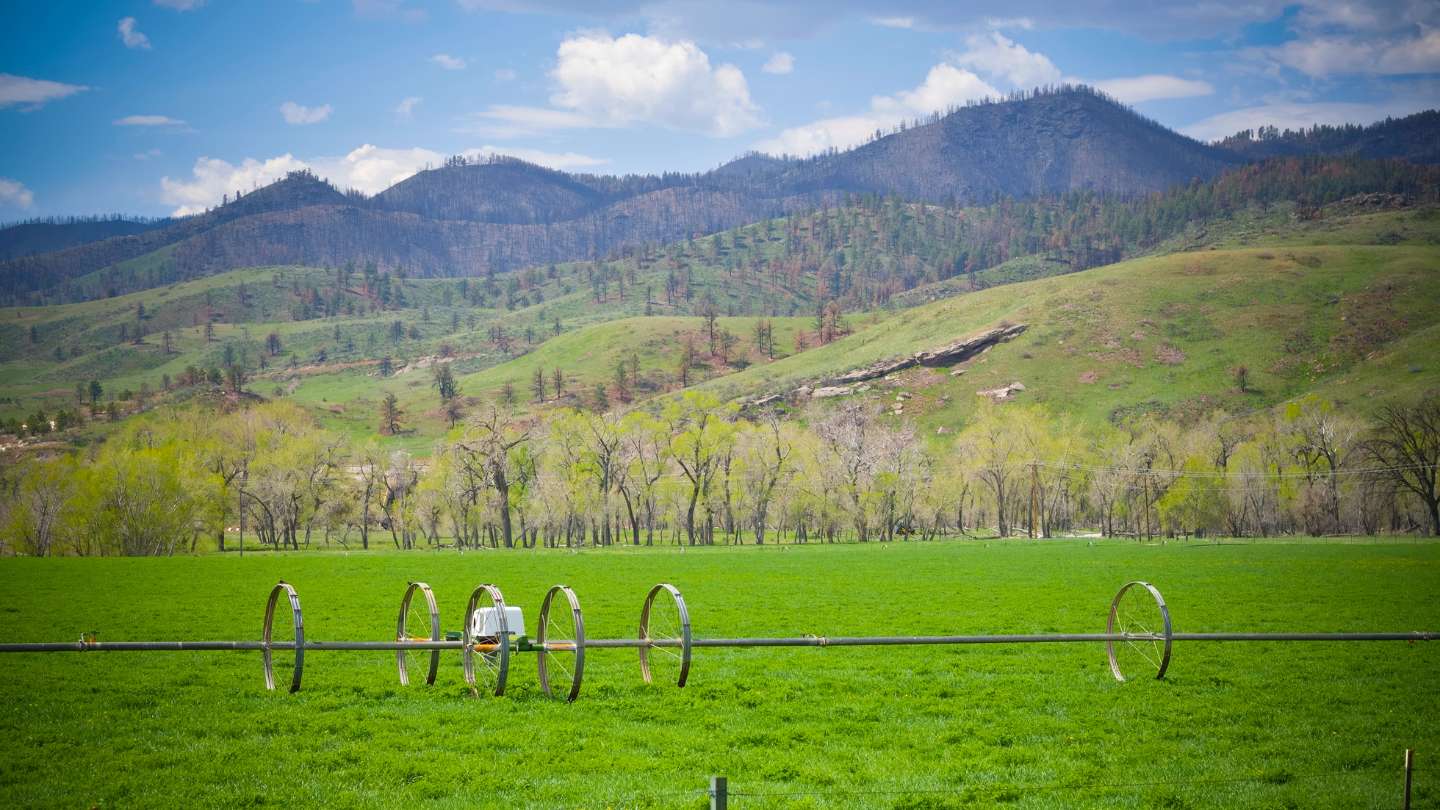 Summer water resource funding opportunities in the Colorado River basin
Summer is officially here and the heat has been turned up! The cool, wet spring that many of us in the intermountain West have enjoyed is supporting our lands and filling many reservoirs. And yet our work in the Colorado River Basin to support private lands, water conservation and agricultural production continues.
The state and federal funding programs and resources available to landowners and place-based organizations to support water efficiency and conservation are still available and some important WaterSMART application periods will be opening in July. Check out the summary of resources below. Unique in this newsletter is an important opportunity for your voice to be heard in the management of the Colorado River Basin.
And, as always, we stand ready to help. As a reminder, we can provide everything from grant writing and editing to strategic review of your proposal. Welcome to summer!
---
Engagement Opportunity
BOR holds comment sessions on Colorado River Basin management
New guidelines for the operation of federal infrastructure (most importantly, Lake Powell and Lake Mead) began on June 16th, with a Notice of Intent filed on the Federal Register. The process begins with public comment opportunities in July through August 15th on the scope of guideline development: the Bureau of Reclamation requests the public to consider the past 15 years of operating experience since adoption of the 2007 Interim Guidelines and suggest what should be retained, modified or eliminated. They are also asking for public guidance on how the agency can best use available science to inform the guidelines, given the highly variable and shifting hydrology of the region.
There will be three virtual public meetings during which Reclamation will provide information and hear oral comments. The meetings are:
Monday, July 17, 2023, 1pm to 2pm (MDT) – Register
Tuesday, July 18, 2023, 10am to 11am (MDT) – Register
Monday, July 24, 2023, 6pm to 7pm (MDT) – Register
West-wide funding opportunities
U.S. Department of Agriculture's NRCS Regional Conservation Partnership Program (RCPP)
Based on partner listening sessions and employee and partner surveys, USDA's Natural Resources Conservation Service identified seven key focus areas for improvement, each with a dedicated team working to address identified issues and provide recommendations.
The fiscal year (FY) 2023 RCPP Notice of Funding Opportunity (NOFO) was released by NRCS on May 19, 2023. Projects selected under this NOFO may be awarded funding through either the Inflation Reduction Act or Farm Bill 2018. Applications for RCPP climate-related projects will receive priority consideration for Inflation Reduction Act funding. The 2023 RCPP priorities are climate-smart agriculture, urban agriculture and projects and, as a Justice40 covered program, projects that serve underserved farmers and ranchers.
Up to $500 million is available and NRCS will accept applications now through August 18, 2023 via the RCPP portal. Please note that to request access to the portal, you must have a level 2 verified eAuthentication account with USDA. This can be obtained by following the instructions on the USDA eAuthentication page.
USDA Emergency Community Water Assistance Grants
This program helps eligible communities prepare, or recover from, an emergency that threatens the availability of safe, reliable drinking water. Water transmission line grants up to $150,000 to construct waterline extensions, repair breaks or leaks in existing water distribution lines, and address related maintenance necessary to replenish the water supply. Water source grants up to $1,000,000 for the construction of new wells, reservoirs, transmission lines, treatment plants, and/or other sources of water (water source up to and including the treatment plant). For more information on the program and state-by-state deadlines and details, click here.

Help accessing U.S. Forest Service "Fireshed" funding from Confluence West
Watersheds for Firesheds is a new project from Confluence West helping western community-based watershed and listed species advocates and water supply utilities tap into the Forest Service's new $3.5 billion 'Fireshed' funding. The site provides analysis and information to help you figure out how some of that funding can be directed toward source water, listed species, watershed restoration, and climate resilience projects.

Bureau of Reclamation WaterSMART grants
Reclamation received a total of $2.1 billion in funding under Section 40901 of the Bipartisan Infrastructure Law for programs within WaterSMART and Aquatic Ecosystem Restoration, and a new authority for Multi-Benefit Projects to Improve Watershed Health. There are a number of existing and upcoming opportunities for landowners and partner organizations through the Bureau of Reclamation's WaterSmart Grants.
Check out the full calendar of opportunities here. Upcoming grant opportunities include:
Applied Science Grants
Drought Resiliency Projects
Large-Scale Water Recycling Projects
Title XVI – Water Reclamation and Reuse
Opportunities by State
Arizona
Water Conservation Grant Fund
The Water Conservation Grant Fund (WCGF) exists to provide financial resources to eligible entities for the purpose of conserving Arizona's water supply. The Fund is administered by Arizona's Water Infrastructure Finance Authority, or WIFA, an independent state agency established by the Legislature in 1989.
A wide range of projects and programs may be eligible for WCGF funding. Some examples include:
Water use education and conservation research
Community incentives for rainwater harvesting, gray water systems, and turf removal
Widespread installation of drought-resistant landscaping and turf removal incentives
Infrastructure efficiency upgrades
Projects that promote groundwater recharge and imported aquifer health
Construction of groundwater storage facilities
Community education initiatives about wise water use
Programs or projects to reduce structural water overuse issues
Cities, counties and irrigation districts, among other public entities, can apply for up to $3 million in grants for their water conservation programs and $250,000 for projects. These can range from research and education efforts to programs for residential improvements to watershed restoration.
Nonprofits can also apply for the fund in partnership with a public entity or water provider. All proposals require a 25% match. The next round of applications will likely open in June, and the committee will continue to receive applications on a rolling basis until June 2024 or until the funds run out.
Arizona Water Protection Fund
The Arizona Water Protection Fund (AWPF) is a competitive state grant program that is designed to allow the people of Arizona to prosper while providing funding to interested parties for the development and implementation of measures to protect water of sufficient quality and quantity to maintain, enhance and restore river and riparian resources throughout Arizona (including projects that benefit fish and wildlife that are dependent on these important resources), and measures to increase water availability and supply. The distribution of grant funds from the AWPF is authorized pursuant to A.R.S. § 45-2101 et seq. and is overseen by the Arizona Water Protection Fund Commission (Commission).
The program is administered through the Arizona Department of Water Resources (ADWR). The AWPF supports projects that fit the following objectives to meet the program goals:
Provide identified and measurable benefits to the water resources of Arizona through broad-based local support
Provide positive, effective examples for other similar projects.
Advance the field of water conservation knowledge in Arizona.
Increase public awareness of the function and value of riparian resources in Arizona.
For reference, the FY 2023 application guide can be found here. The FY 2024 application guide is expected to be published in July of 2023 with an anticipated proposal due date of August 2023.
Colorado and California

Zero Foodprint RESTORE Grant: Healthy Soil and Carbon Sequestration
Zero Foodprint will award approximately $250,000 in California and $200,000 in Colorado in grants of up to $25,000 each in grants to farmers and ranchers to sequester carbon. The grants are available for spreading compost on depleted soil, cover cropping, technical assistance, and more – whether a producer is already practicing regenerative agriculture, or just taking their first steps toward regenerative farming.
Applications will be accepted through July 20th and grant recipients will be announced by the end of August. Find out more by visiting this website.
Colorado
Colorado Water Conservation Board (CWCB) grants and loans
With a mission to conserve, develop, protect and manage Colorado's water for present and future generations, the Colorado Water Conservation Board (CWCB) was created to provide policy direction on water issues. To further its mission and advance the Colorado Water Plan, CWCB provides financial assistance to water providers and other eligible entities in Colorado through loans and grants for a variety of water-related projects, studies, planning documents, awareness campaigns, and other activities:
For a complete overview, see the Loan & Grant Programs fact sheet. Contact Michael Regan, michael.regan@state.co.us (303) 866-3441 x 3214 for more information.
Reminder: Ongoing opportunity
Biophilia Foundation: Riverscape Restoration
The Biophilia Foundation is seeking proposals for projects to improve the resilience of watersheds in arid and semi-arid regions of the southwestern United States and northern Mexico.
Proposals are being reviewed bimonthly, starting in April 2023.
---
Thirsting for more Western Water content? Find it here: onland.westernlandowners.org/on-water