Lesli Allison and Tuda Libby Crews on the Mountain and Prairie Podcast
There's a growing understanding across the political spectrum that private and working lands have a critical role to play when it comes to achieving lasting conservation outcomes in the United States. The Biden Administration's call to conserve 30% of the nation's lands and waters by 2030 in a January 2021 executive order on tackling the climate crisis has prompted a lively national conversation about how to define conservation, and who gets to decide.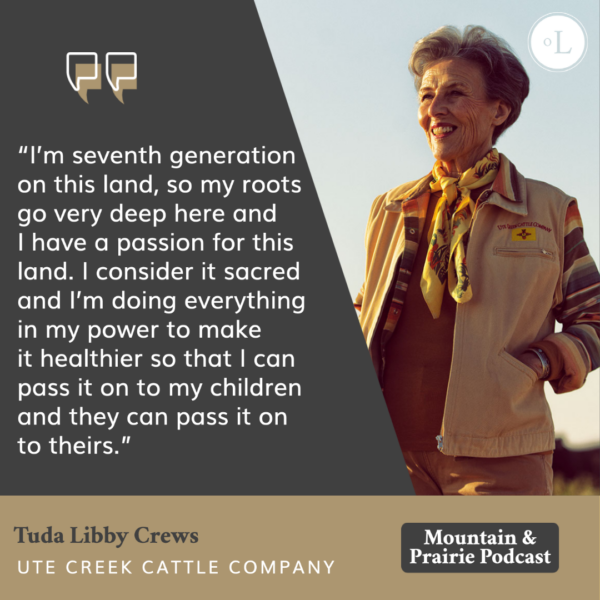 Lesli Allison, executive director and founding member of the Western Landowners Alliance, and Tuda Crews, of the Ute Creek Cattle Company in New Mexico, appeared on the popular podcast, Mountain and Prairie to discuss. They shared some of the hard-earned stewardship successes on Tuda's ranch and across WLA's vast network of farmers, ranchers, and land managers, and discussed the future of working lands in the West in light of the Biden Administration's 30×30 initiative. The episode, released on September 21st, was supported by the Salazar Center for North American Conservation in anticipation of the International Symposium on Conservation Impact.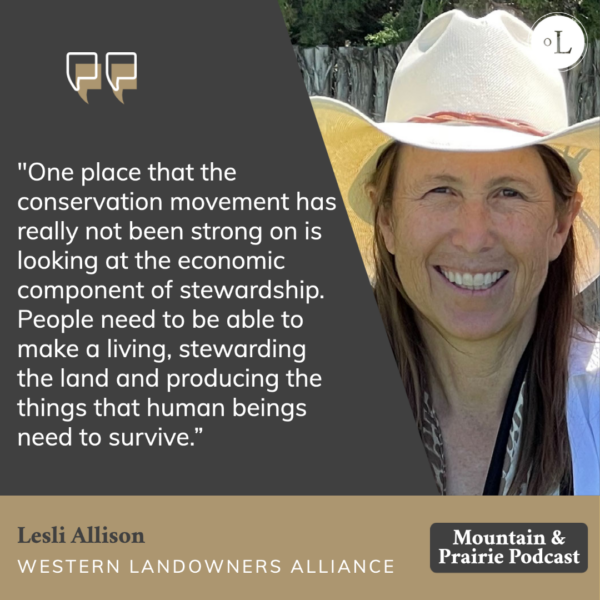 Mountain & Prairie host Ed Roberson kicked off the conversation with a preface that illustrated the complexity of the issues facing the American West today:
"While ranchers, farmers, and conservation stakeholders have long understood the critical importance of private land stewardship and conservation, the Biden administration's 30×30 conservation goal has brought the topic to the forefront of American politics and mainstream media.

30×30 has prompted challenging conversations about what it means to conserve land, and it has sparked healthy debates about the government's role in private land stewardship. 30×30 is a bold initiative and its implications for private landowners, particularly agricultural producers, are enormously complex– we'll never find sufficient answers in pithy tweets or surface-level news stories."