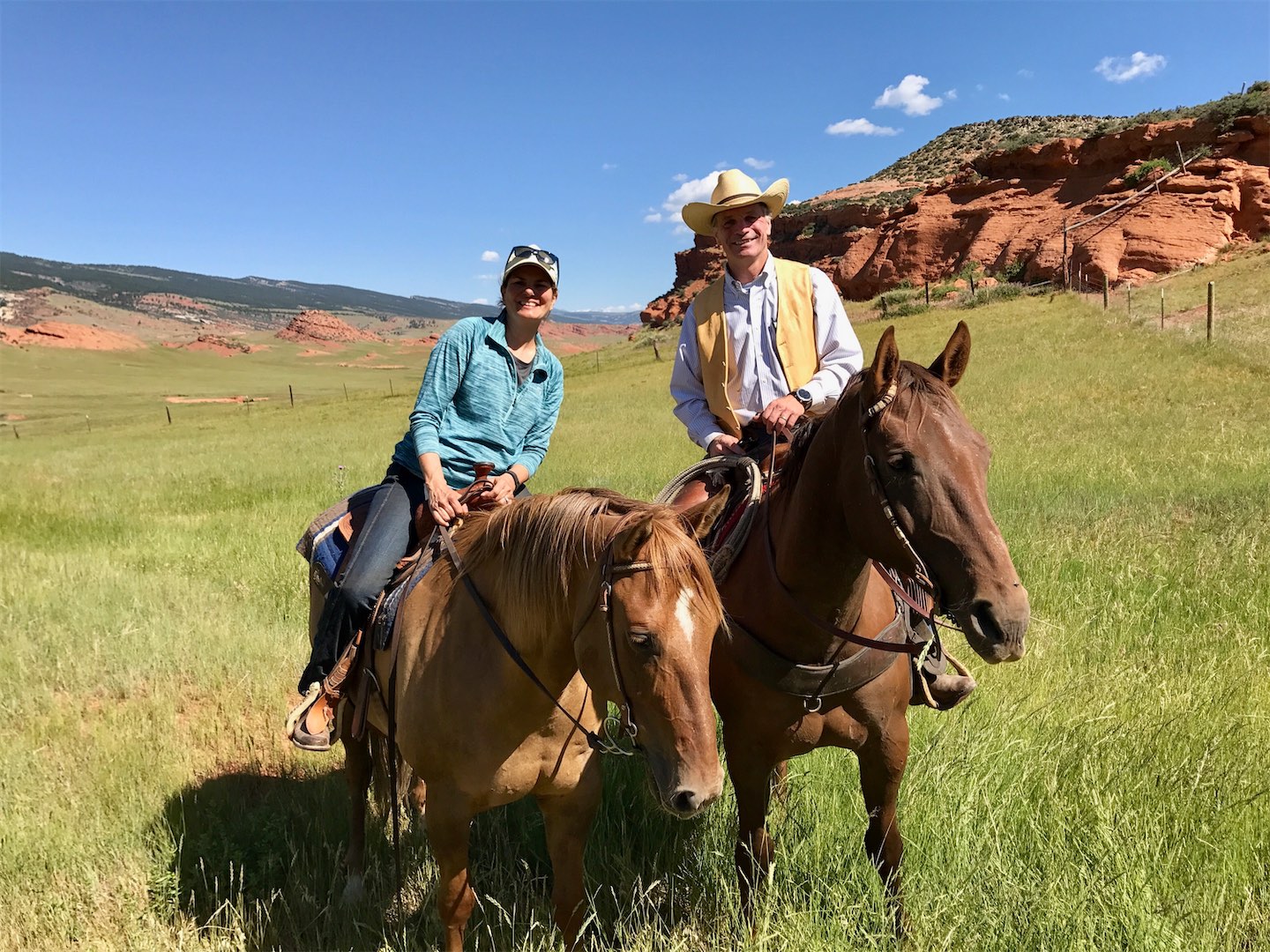 Wyoming Governor Mark Gordon
WLA's executive director, Lesli Allison, sat down with Governor Gordon for a conversation about the governor's passion for ranch life, his vision for how ecosystem service markets could help Wyoming become a leader in the future of private sector conservation, and how protecting Wyoming's migration corridors is a true win-win.
Lesli Allison: You grew up in ranching, you are strongly supportive of Wyoming's energy industry and you are also an outspoken leader in conservation. How do you think about the relationship between these things and what does it take to find the right balance?
Governor Gordon: I think in that whole discussion between energy, land stewardship, conservation, we've forgotten the greatest conjunction of all, and it's "and", not 'or". Growing up ranching, one of the greatest considerations is how to be a steward of your land and resources. What we have seen over the last number of years in Wyoming is great effort by energy and conservation to be able to make a lighter impact on the land, and using technology to help do that, particularly with species like sage grouse and now with migration corridors.
LA: You recently issued an executive order that seeks to conserve Wyoming's legendary wildlife migration corridors. What's different about Wyoming's approach here and is it working?
Having a collaborative group allows people to have a conversation about what is really a dynamic area on a map and how they can work with existing practices to conserve the corridor. Rather than seeing it as a constriction we're talking about value and the potential to bring greater economic diversity and opportunity.

Wyoming Governor Mark Gordon
GG: Wyoming started with the sage grouse effort and we realized how important it was to be collaborative and to try to take a balanced approach and understand what is happening right on the ground. With the migration corridors, we assembled local area working groups and they are meant to put a collaborative effort together. Saratoga and Baggs have been successful, and we're now finishing the one in Pinedale. Each one is different. The science that established that we have some of the longest migrations, now points out the value of those populations, but as soon as you put something on a map, people start worrying about what that means for their properties and development. Having a collaborative group allows people to have a conversation about what is really a dynamic area on a map and how they can work with existing practices to conserve the corridor. Rather than seeing it as a constriction we're talking about value and the potential to bring greater economic diversity and opportunity.
LA: As a rancher, you already know that working lands are under increasing pressure to provide so many public benefits, from food and fiber to wildlife habitat. However, we continue to lose land to development in large part because the price of land is far out of step with its ability to generate income from agriculture alone. Do you have thoughts on ways to maintain the economic viability of our working lands?
GG: One of the greatest things we can do, and it is certainly something we are pushing very hard here in Wyoming, is how can we establish true marketplaces for ecosystem services, and bring new sources of income.
Now, with crypto and digital tokenization, if we can establish a direct marketplace between those producers who can demonstrate things like carbon sequestration and consumers. Instead of checking a box saying they want to offset their impact by paying this middleman to develop something somewhere else, if we can actually build a mechanism that allows the consumer to reward the producer for a given good, then we will have a marketplace that will outlast any administration's policy. So I am very hopeful that as we develop what a migration offset looks like, we can actually generate income to the ranchers directly through that process.
But I do worry that as land goes up in price, and we see increasing subdivision, this is going to make the challenge that much harder. So another thing that we are really working on is how do we make sure the management of ranches allows for young people to get back into ranching and agriculture.
LA: Do you think regulation has a role to play in developing these markets or do you see these primarily as voluntary markets?
GG: What I worry about with a regulatory regime is that is entirely dependent on administrations and legislation and that changes over time. They might need a leg up to start but my hope is that in time they would become as viable as any other market. As people understand the real value, they will begin to price that appropriately. If you really care about wildlife, if you really care about hunting, how can you make sure this this migration corridor works?
If I really care about CO2 in atmosphere, how much am I willing to actually pay for that? Instead of buying absolution, I actually can have a certificate that demonstrates where that carbon is sequestered.
LA: The outdoor recreation economy is growing and increasingly important to western states, yet many places are experiencing significant overcrowding and impacts to wildlife and other natural resources. Are you seeing this in Wyoming and how is the state thinking about managing it?
GG: We are seeing this in Wyoming. As you were asking the question, I was thinking that one of great things about Wyoming is that we have had great partnerships with industry and industry has provided some of the financial wherewithal to make the kind of changes in our land management policies that really protect some of those really important habitats. What I think we've seen with this explosion in recreational activity is people able to get into far more remote areas than they used to more rapidly with greater mechanization. But that potentially comes at a pretty significant cost to wildlife and a burden to private landowners as well as people begin to overstep into private lands uninvited.
We've been a little bit later to the party because we just have fewer people than other states but lately we've really seen an onset of people coming in to enjoy what Wyoming has to offer. We're seeing trailheads overwhelmed and areas over-loved and it is something we will have to deal with. For those of us who really value outdoor recreation, value wildlife populations that are healthy, value the land, as we should, how do we protect all of that without putting permit systems or overarching regulatory structures in place so that people still feel that if they want to get into the outdoors, they have every opportunity to? What are the things short of a restrictive permit system that we can use to disperse recreation? It comes back to educating people about how precious and fragile all of this is. It can be ruined by too much attention and pressure.
LA: I know that your wife, Jennie, is passionate about feeding the hungry and the Wyoming Hunger Initiative. Tell us about that program.
GG: A little bit of the history on Jennie. She comes from a family of ten. Her dad lost his home in the thirties, and ended up on the Grand Cooley dam, then got into the armed forces, married an Austrian woman. They had no money and so couldn't eat very much. Her mom, being an Austrian woman during World War II, well, she said, schmaltz is basically bacon grease and that was their greatest joy in the world, eating bacon grease because they just had nothing else to eat. So [hunger] has been incredibly important to Jennie her whole life.
When she got into agriculture and then became first lady, she started looking around for what she could do. It is amazing how many school children are food insecure. She thought, well maybe there is a little something we can do about that. 'I'm not particularly interested in setting up my own organization,' she said. 'What I'd love to do is use the office as a way to raise funds for food pantries, food distribution systems, support ways to get food into schools." And it has really just exploded from that idea. It was initially a way to help out those pantries, but then it grew into a program called "Food from the Farm and Ranch." It turns out that there are ranchers and farmers in the state that that are willing to donate food. So how do we do that in a better way? And that's sort of segued into more food processing around the state, more effort to get USDA inspection and so on. That program has grown enormously.
And then, because she is a hunter, she wondered about the excess meat that is sometimes thrown away. Is there a way to have hunters donate their meat, which is "Food From the Field", which is a separate deal. All the meat is tested for chronic wasting disease and everything else. That's a burden on the meat processor, it's a burden on the hunter, so her organization helps make sure the testing gets done and the distribution happens after that.
So they have done tons and tons of food that not only goes to local schools but has now expanded into other populations like veterans and people who are just down on their luck. Recently, she's coordinated with master gardeners on a program called "Grow a Little Extra." Grow a Little Extra provides seeds to people. Recently they went up to Wind River Reservation and helped build boxes that can help get the seeds going that are provided through the WY Hunger Initiative to get more produce into the system there. They have also teamed with Sensible Nutrition so that people know how to put together a good meal. So the program has really grown, and I don't know if she's done yet.
But at its heart, people are hungry and there's no reason why in the wealthiest nation in the world, people have to suffer food insecurity. They should have good nutrition. We need to make it so that if your passion is agriculture, you have a way to distribute that produce and be part of the solution.
And lastly, there is a tremendous amount of debt that different school districts have with children whose parents have not paid their [school lunch] bills. Some school districts said, well, what if we give those kids a peanut butter and jelly sandwich instead of a hot lunch. Jennie said, well, that just ostracizes the kid and puts them at a disadvantage. What if we just start calling parents and saying 'you know, you have this debt, can we help by matching your payment.' In that way, they've reduced school food debt around the state dramatically just by taking this common sense approach.