What landowners need to know about the farm bill and water
It has been a busy year at the Capitol. After much back-and-forth, two major pieces of legislation passed that will bring considerable new investments to Western working landscapes: the Inflation Reduction Act and the Infrastructure Investment and Jobs Act. With the ink on those major legislative packages dry, all eyes are now focused on the upcoming farm bill. 
As the name implies, the farm bill is the single most significant piece of legislation related to agriculture in the United States. It provides funding for and sets the broad structure of programs from crop insurance to conservation programs to commodities support and much more. In the last farm bill, Congress allocated over $420 billion across all of the different authorized programs. Farm bills are generally authorized in five-year cycles, meaning that come October 2023, the current farm bill (signed in 2018) will expire.
With severe drought gripping much of the West and unparalleled uncertainty around the future of our water resources, the next farm bill presents a timely opportunity to invest in water security, drought resilience and watershed health.
This sprawling legislative package authorizes the funding for voluntary conservation programs like the Conservation Reserve Program (CRP), the Environmental Quality Incentives Program (EQIP) and the Agricultural Conservation Easement Program (ACEP). But tucked away in the details are also a number of lesser-known provisions that can provide landowners and producers with financial and technical assistance to improve water management and build drought resilience.
EQIP focused on water conservation
The 2018 Farm Bill modified EQIP to allow the U.S. Department of Agriculture (USDA) to contract directly with irrigation districts and groundwater management districts to deliver water conservation practices, reducing the burden of enrolling for landowners. Through EQIP, producers can receive cost-sharing and technical assistance to improve irrigation systems, convert to less water-intensive methods of production and improve water storage. EQIP priorities are determined at the state level, so interested landowners should be sure to contact their local Natural Resources Conservation Service (NRCS) office for more information and opportunities to participate on the state technical committee to influence the use of the program in their state.
Regional Conservation Partnership Program 
The Regional Conservation Partnership Program (RCPP) also has the potential to support voluntary water conservation and watershed health improvements at a watershed or regional scale. The intent of RCPP is to enable broad sets of partners to design and implement a wide range of conservation and working landscape improvement projects with farm bill funds. In theory, the program should enable community-based organizations to continue to lead in designing locally led solutions with producers and other partners. Unfortunately, in practice, the program can be overly burdensome and prohibitively expensive for small, local groups to take advantage of. Despite the challenges, there are still examples of RCPP projects addressing water quality and quantity around the country. With the right tweaks in the upcoming farm bill, the full potential of this program could be unlocked to address the needs of Western producers.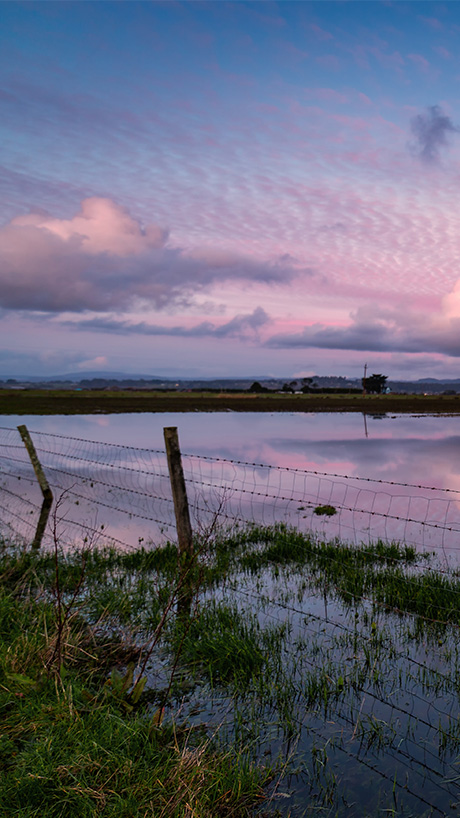 Western Landowners Alliance (WLA) is working hard to make the farm bill work for the West.
That includes safeguarding our food security and landscape health, while also supporting wise stewardship of our precious water resources. To find out more, share your thoughts and access resources about water in the West, visit
wla.social/water-west
Watershed Protection and Flood Prevention Act (PL-566)
The Watershed Protection and Flood Prevention Act (PL-566) contains opportunities to enhance watershed health and increase drought resiliency in Western working landscapes. Similar to RCPP, the program allows the NRCS to help local organizations and governments plan and deliver watershed-based projects with landowners and producers. These projects can address water quality concerns, flood protection and erosion control, but also can support groundwater recharge, water supply protection and agricultural water management. In the past, the program has generally been delivered more consistently outside of the West with an emphasis on water quality improvement and flood prevention. The next farm bill is an opportunity to adjust the program to better address challenges unique to Western water and watershed health.
Conservation Reserve Enhancement Program (CREP) 
The Conservation Reserve Enhancement Program (CREP) is a subprogram under CRP. CREP applies similar soil rental authorities (per-acre payments) as CRP but also leverages state, tribal and NGO capacity and financial resources to address specific conservation challenges in a given landscape or state. There are already several CREP agreements established to address water quantity concerns in the West, such as the Republican River CREP in eastern Colorado and the Idaho Eastern Snake River Plain CREP. Notably, these projects both address groundwater concerns and in some cases require permanently retiring irrigated cropland. With the right coordination and state leadership, the potential of this program to support surface water conservation and to provide producers with flexibility around water conserving opportunities can be improved.
Zach Bodhane is the policy director of WLA. He invites you to reach out with questions or to get involved in WLA's farm bill advocacy by contacting him at zbodhane@westernlandowners.org.