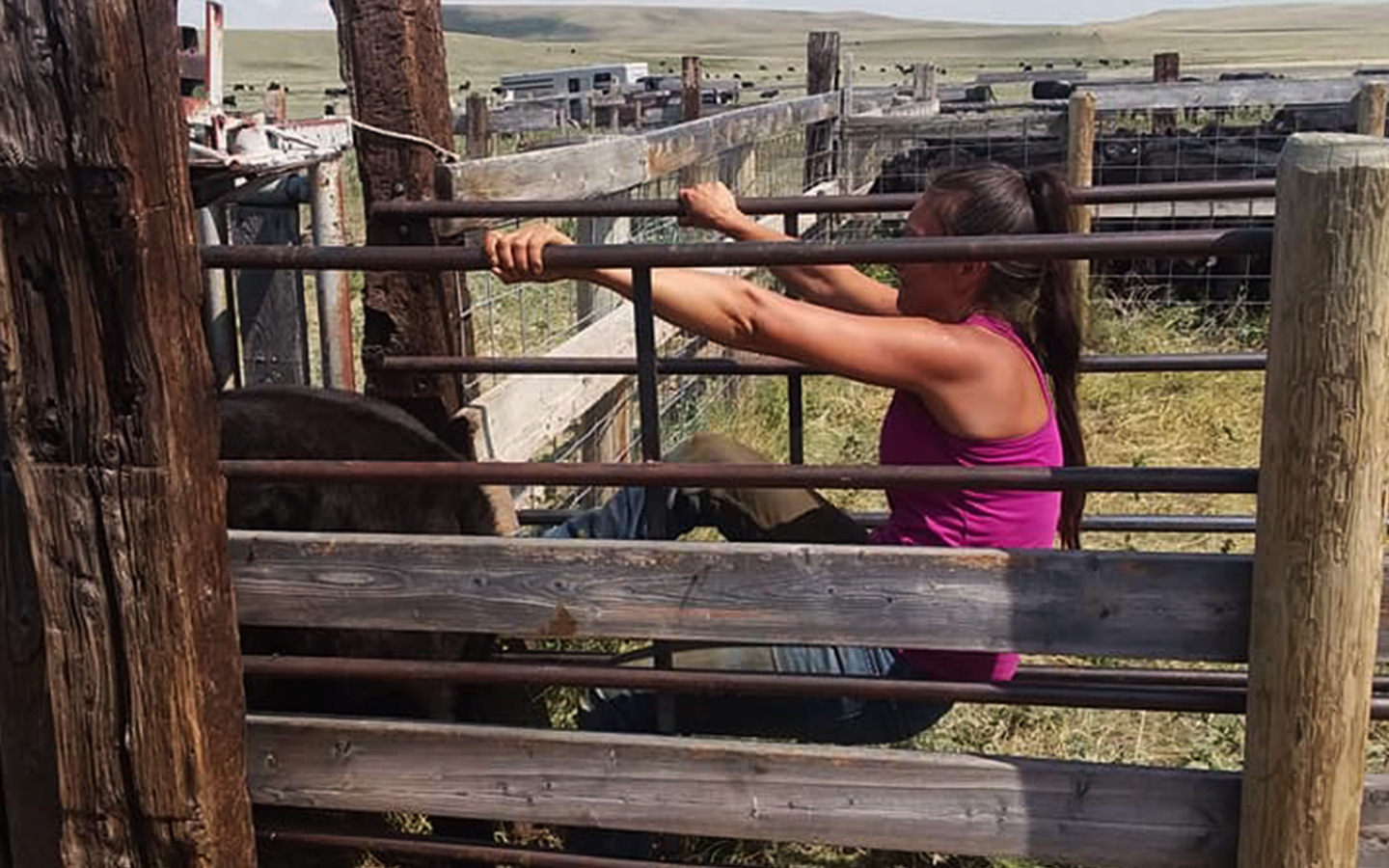 Kristen. – a human of the working wild
Humans of the Working Wild is a collection of stories from people in the West who are living, recreating and working with and among wildlife on working lands, lightly edited from their own spoken words. Humans of the Working Wild speaks across the rural-urban divide, sharing common human experiences on working lands that provide important wildlife habitat. We are inspired by one of the most successful profile series of all time, Humans of New York.
---
Kristen: "I love to explore, I was kind of like a wanderer. I always likened myself to the little fluffs of dandelion that blow wherever. But I just loved home. I loved the mountains. And honestly, it was the land that drew me back.
Hard as it was, I left home at 15 and went to a private high school. I was an academic, and I wanted to find the best educational opportunities, and they just weren't here. I had probably never spent a night away from my family. The first two months were awesome. And then after that, I cried every day for awhile.
I used to dream of the land, like the actual physical landscape and have recurring dreams. And I just knew that I had to come home, that I was getting the experience that I needed at that time in my life, but that my heart was always going to be here along the mountains, along the mountain front, under the big sky.
When I was in college, well, I put myself through school. I worked in a long term care facility. You know, I had been around my own grandparents and elderly people, but really getting to know, and care for, and love these elderly people really influenced how I want to live my life, how I want to grow old. All the things that my parents or grandparents, teachers, other people in my life had told me had made some impact, but seeing firsthand how people choose to live their life and what effect it had on them, good or bad, especially physically, and mentally. And so I knew that I wanted to grow old with as good health as possible.
So my family, we got COVID right before Christmas break. I was actually really sick. My husband, he was kind of sick, but he recovered. He had a few symptoms. I got sick next. He got it while working, from a guy who knew he was sick, but he chose not to isolate and so, we got sick. After about 6 weeks, I finally started getting better only about a week ago, but I did not have to go to the hospital, which was good. That's why I'm hacking a lot. I was coughing up blood for a while, it just really went into my lungs. So that was kind of difficult. The fatigue is still there. I get dizzy a lot. Myself and my daughter got sick, my baby. None of the other kids got sick. She was lifeless, and didn't really move for probably four days. I was debating whether we had to go to the hospital or not. Thankfully, she got better.
When my daughter got sick and she was getting worse and worse, and then finding out exactly how this was brought into our home, I was very angry. I had hard core isolated since March with my children. We really took it seriously. You know, having that happen and not knowing what is going to happen to your child when they're getting worse and worse and there's nothing that you can do, it was an extremely helpless feeling. And I have never felt more helpless and not knowing what was going to happen. And a big part of me was just feeling that as anger, like a mama bear. I had to really try to let go and to process that and not be overwhelmed or get caught up in it. I'm a lover, not a fighter, and I don't like carrying around hard feelings of any kind. So, you know, I still have some. I'm really still letting go of it.
We've, I've, lost a lot. 45 people in our small little community: young people, middle aged people, old people, doesn't matter. Some of them did not have any health issues at all. I've lost two uncles, an auntie, a cousin. And former co-workers, a lot of people that I have a tie to, I have a connection, I have had a relationship with, have died or been really sick. It's pretty bad for well, of course, all people of color, but especially for Native Americans. We're around a third of all the COVID-19 deaths in Montana. We make up like seven percent of the population. It's been really heartbreaking. And the only thing that we can do is just try to move forward from here."
Kristen: "Not everything is black and white, you know, growing up on a family ranch. My parents ran the operation and we ran strictly Black Angus cattle. As I got older, I wanted to branch out and my goal was to grow and raise all of our food. Now, my husband, my children, we raise a lot of different livestock, cattle, hogs, sheep, poultry, and Karelian Bear Dogs. We've really expanded into different areas and not just livestock, but growing garden produce and stuff like that. I want things to continue to not be limited.
My 12 year old son, Leo has his own business and he breeds show pigs, and that's all him, that was a dream that he had when he was eight years old. And, you know, he wrote and won two grants to build a barn and to buy breeding stock. And that's his passion. And I was pretty much his chauffeur. I hope that we can continue to grow and to follow our passions. I know this sounds super cheesy, but I became an adult and I was like, "You know what? There's nothing stopping me from learning how to garden, from learning how to do this or to do that to raise different animals, if that's something that I want to do." I'm really working now to find ways to benefit my community in a way that will have a ripple effect, I guess. I would love for our community to continue to do what they're doing in the area of agriculture, cattle ranching, and I would love to see the next generation, my children, That's really what I would love to see."
---