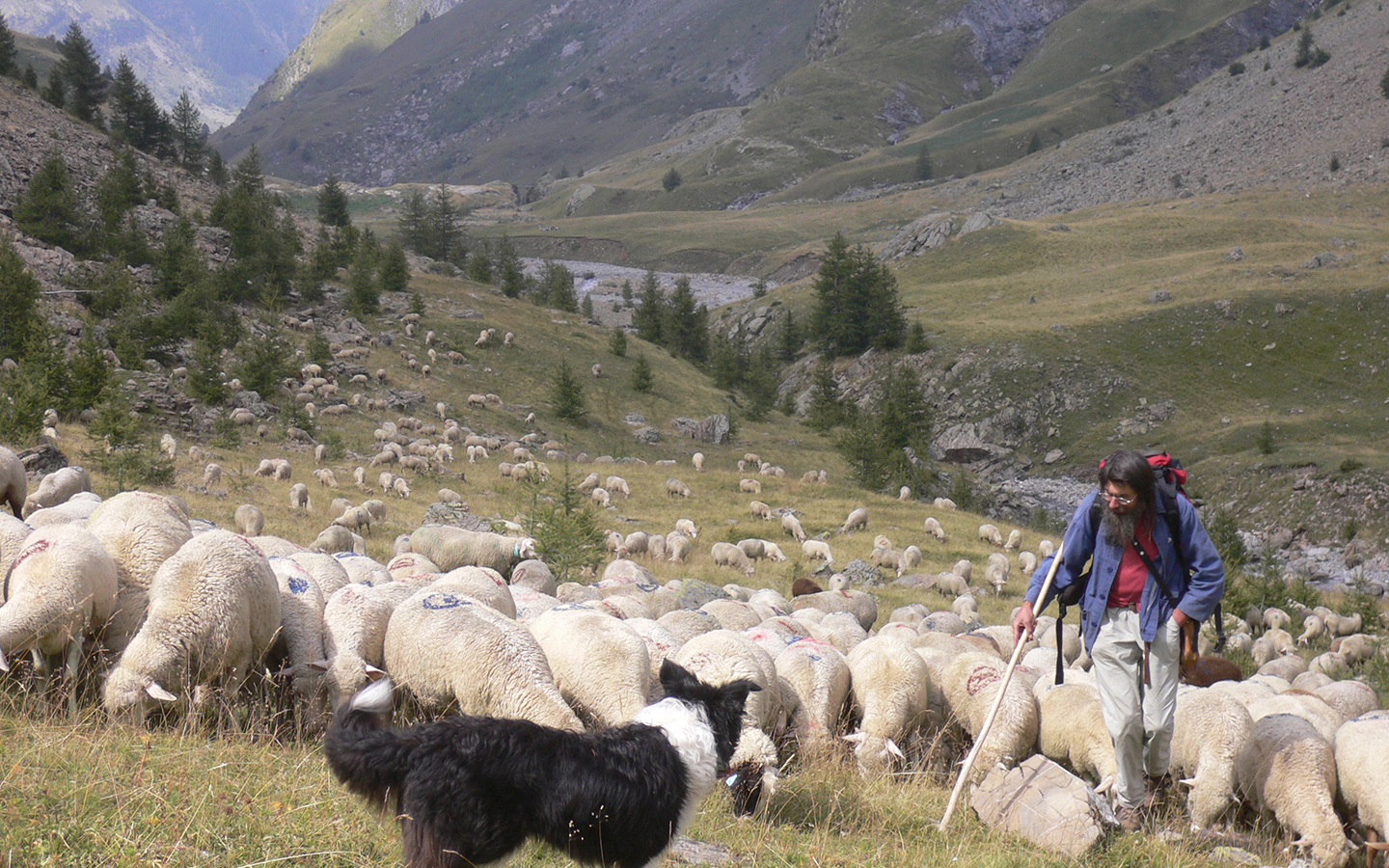 Sheep, Shepherds and Wolves in the French Alps
Considering the failure of nonlethal means to protect herds against wolves in France—more than 1,000 animals killed per year over the past 10 years; 12,000 total losses in 2017—researcher Michel Meuret and colleagues recommend targeted and lethal regulatory actions, despite the strictly protected status of wolves. Without these actions, the state of affairs will become untenable for breeders and herders, as well as for land and local community managers. Grazing abandonment due to intense pressure from wolves will degrade the biodiversity of landscapes.
For nearly 30 years, breeders have been called on to graze in ways that conserve remarkable species habitats and minimize the risk of wildfire. They volunteer to do this because they benefit from paid grazing contracts and because their grazing practices employ talented herders. French natural resource managers realize that mountain habitats grazed for centuries by intensively herded animals have greater biodiversity. After grazing abandonment, or extensive grazing in fenced pastures, woody species increasingly dominate the landscape and grassland-dependent wildlife species disappear.
Then, wolves, one of several protected species in France, arrived on the scene, dispersing from Italy, where they encountered significant poaching. Their return and recolonization were promoted by some as an expression of recovered biodiversity. Their populations have increased in number and they now occupy the entire French Alps, with 60 wolf pack territories. Currently, the density of packs in the region of the Southern Alps is comparable to that of the Greater Yellowstone Ecosystem in the American West.
Livestock farmers receiving financial support from France and the European Union are urged to recruit assistant herders, use numerous guard dogs, secure electric fencing and systematize night penning. These deterrents are increasingly widespread, but they are costly to install, create considerable constraints for breeders and herders, and result in conflicts with hikers, who have experienced unpleasant or harmful confrontations with guard dogs. Worse, despite their use, losses due to wolf predation continue to increase.
Why? What went wrong? Wolves, as a strictly protected species in France, have learned to disassociate livestock from humans and humans from danger. For decades, the use of any lethal means to eliminate the most insistent individual wolves or packs has been strictly prohibited. For smart and opportunistic wolves, the presence of humans working with herds is not associated with an expected and severe threat. Nonlethal deterrents, used alone, have become increasingly crossable barriers. Without targeted removal of wolves that have become conditioned to prey on livestock, the sustainability of livestock production and the biodiversity of landscapes in the French Alps are deeply jeopardized.
---
This article originally appeared as a case study in Western Landowners Alliance's 2018 Reducing Conflict with Grizzly Bears, Wolves and Elk: A Western Landowners' Guide. It was adapted from: Meuret, M. and F. Provenza, editors. 2014. The Art & Science of Shepherding: Tapping the Wisdom of French Herders. Austin: Acres USA, Inc.
Image © Michel Meuret/INRA