30 years of BLM vegetation changes shine light on woody and annual invasive encroachment
Keeping a close eye on plant life across millions of acres of public lands allotments is an overwhelming challenge in and of itself. The challenge is amplified by drought, aridification, and increasing environmental as well as social challenges. Yet, new research provides land managers insight into just how they can get a handle on how vegetation is changing across management-relevant scales, from Bureau of Land Management (BLM) allotments and field offices to larger ecoregions.
BLM researchers teamed up with scientists from USDA's Agricultural Research Service and the University of Montana (affiliated with USDA's Natural Resources Conservation Service's Working Lands for Wildlife) to use a newly developed remote sensing tool to conduct an assessment of trends in vegetation cover and production for all BLM rangelands in Western states (excluding Alaska) over the last 30 years. These findings are documented in Long-Term Trends in Vegetation on Bureau of Land Management Rangelands in the Western United States, which was published recently in the journal Rangeland Ecology & Management.
This is the first ecological assessment of vegetation trends across BLM lands using remote sensing at broad and fine scales. Native bunch grasses, exotic weeds, shrubs, and trees are the foundation of all rangeland ecosystems so understanding the ways in which their abundances are changing is crucial for management. Assessments like this can show managers where conservation and restoration actions can be focused for greatest beneficial impact for rangelands, wildlife, and public land users.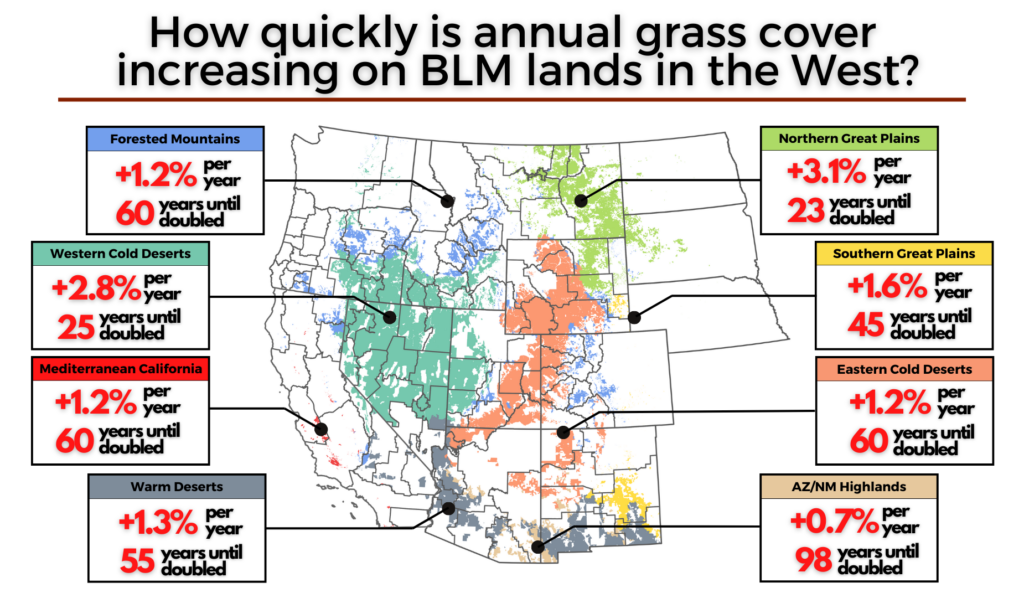 "Through this research we gained a new perspective that can inform land management decision-making in ways that were not possible just a few years ago," said Emily Kachergis, study co-author and BLM Assessment, Inventory and Monitoring Coordinator. "These new technologies are trained by data the BLM has worked really hard to collect and maintain over decades. They allow us to look at how rangelands have changed at broad, regional scales as well as allotment-by-allotment."
Collecting sufficient data to understand how vegetation is changing across western rangelands is a major challenge due to the diversity and expanse of land managed by the BLM, which totals 260 million acres across the United States. The BLM's Assessment, Inventory and Monitoring (AIM) program was created to inform land managers about rangeland ecosystems and how they are changing. Researchers used BLM's AIM data, which was used to train and validate a remote sensing tool called the Rangeland Analysis Platform (RAP), for this entire analysis.
"The power of satellite-derived maps is not just that they give us a birds-eye view, but that they enable us to look back through time as well," Kachergis said. "I hope these maps will promote a shared understanding of the lands we collectively manage, how they are changing, and how we can work together to chart a sustainable path into the future."
Researchers found an upward trend for annual grasses and expansion of trees across all ecoregions and declines in perennial cover across most ecoregions. Cover and production of herbaceous annual plants now exceed that of perennials on nearly 52 million acres of BLM rangeland, marking a fundamental shift in the ecology of these public lands with implications for more frequent and intense wildfires. Tree cover also increased in half of ecoregions, affecting some 108 million acres, representing both expansion into formerly treeless areas and increased density in existing woodlands. Additional, site-specific analysis is recommended to identify drivers of tree cover increases and appropriate management strategies.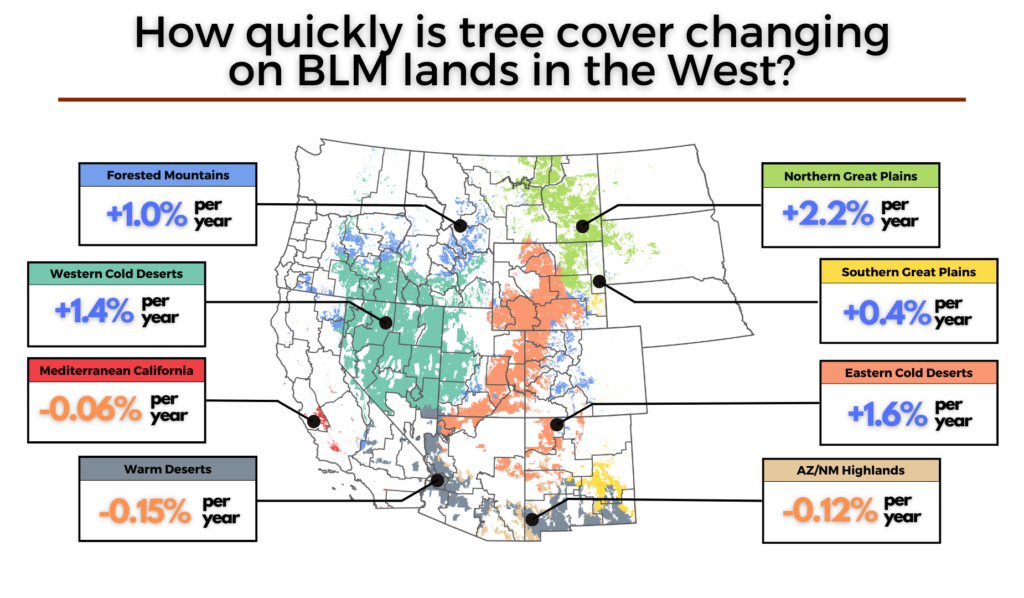 "This analysis not only confirms how prevalent annuals (often exotic grasses) are on BLM rangelands, but also that they have continued to increase in cover over the past several decades," said Andrew Kleinhesselink, lead study author with the University of Montana. "The clock is ticking on our ability to get ahead of cheatgrass and other invasive grasses which are rapidly transforming the ecology of public rangelands."
The study and its authors specifically discuss conditions on BLM allotments and provide management implications for utilizing remote sensing tools combined with field-based data collection and observation. Grazing management was not analyzed in this paper. Although remote sensing data is a powerful new tool for measuring rangeland status and trends, the continued collection of field data through the AIM program will remain essential for understanding BLM rangelands. New field data remains a precious commodity essential for the development and improvement of remote sensing algorithms and for the fine-scale detail it provides.
"This information is incredibly valuable because of the scale at which the BLM operates in the West and how we need to strategically decide where to invest the American taxpayers' dollars," said Justin Shirley, co-author and BLM Rangeland Management Specialist. "Harnessing the potential of the Rangeland Analysis Platform and pairing it with the hand-collected AIM data is a great example of smart government."
Funding for this project was provided by the Montana-Dakotas State Office of the Bureau of Land Management, and supported by the Intermountain West Joint Venture and the USDA's Natural Resources Conservation Service Working Lands for Wildlife. This article was originally published on the Intermountain West Joint Venture's website and is republished here with permission.
---
"Long-Term Trends in Vegetation on Bureau of Land Management Rangelands in the Western United States." Andrew Kleinhesselink, et al. Rangeland Ecology & Management. onland.link/blm-veg-trends