The Farm Bistro – Cortez, Colorado
Gene Powell, aka Chef Geno, is the chef and owner of The Farm Bistro in Cortez, Colorado. The restaurant is built on a farm-to-table approach, buying locally the majority of the time. "Everything is made from scratch and made to order," says Powell. The menu features local beef, lamb and pork, but the ranchers of southwestern Colorado are a never-innovative bunch, so don't be surprised when yak shows up on the menu too! Powell works predominantly with the Southwest Farm Fresh Cooperative to access seasonal produce and meat. His approach to the community is to build the relationships necessary to work directly with local farmers, especially when sourcing meat.
"By supporting producers who employ sustainable practices, the bistro enables healthy eating and encourages a healthy economy."

Chef Geno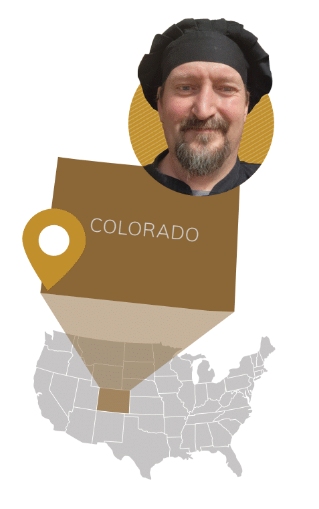 In addition to supporting local agriculture, Powell says he strategically spends advertising dollars by making donations to local schools and organizations that align with the restaurant's mission. When Powell founded The Farm Bistro in 2009, he says, the agricultural community of Montezuma County was producing locally grown food fresher, faster and tastier than the big distributors. Within four years of opening, Powell was spending more than half of the bistro's ingredient budget less than 100 miles from Cortez. The Farm Bistro's cuisine is a local favorite, consistently taking home awards in the annual "Best of Cortez and Montezuma County" retailers competition, so whether you are passing through or are making Cortez a destination, don't miss out on supporting this local gem.
Nominate your favorite small-town business, restaurant or watering hole to be featured in the next issue! onland@westernlandowners.org