Carnivores and collaboration In Wyoming's Upper Green
Wyomings's Upper Green River Valley is equal parts beautiful and rugged, with vast open plains and working ranchlands rimmed by commanding peaks. This working wild landscape supports a host of endangered species and essential migratory pathways for wildlife, including mule deer, pronghorn, and elk; and the wolves and grizzly bears that follow them.
Mirroring the seasonal migrations of wildlife to the high country, ranchers of the region have moved their livestock along the Green River Drift to and from grazing allotments for over 100 years. The Drift is Wyoming's oldest stock drive, listed as a Traditional Cultural Property (TCP) on the National Register of Historic Places, the first ranching-related TCP in the nation.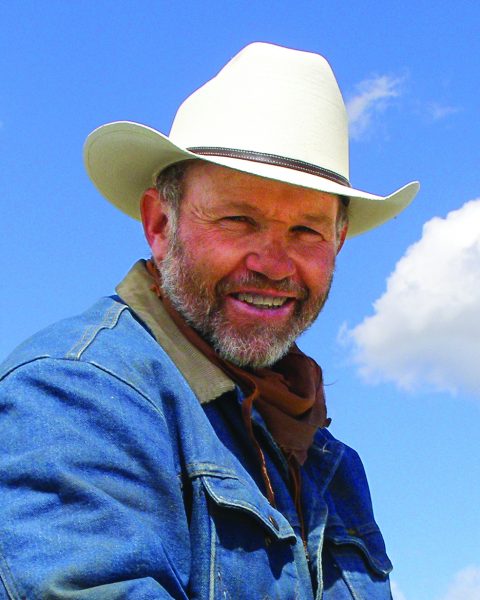 The Upper Green River Cattlemen's Association, a group of ranchers that banded together at the request of the Forest Service, steward this historic cattle trail and grazing allotments. The rancher collaborative "was designed in 1916 to reduce conflict, whether that's conflict between us and the Forest Service, or whoever," says Albert Sommers, a rancher, state representative, and the current head of the Upper Green River Cattlemen's Association. "That is why you create collaboratives. To solve problems."
Albert lives at the end of a dirt lane south of Pinedale, Wyoming that bears the family name. There the Sommers have raised cattle for four generations, continually adapting their practices to the region's notoriously extreme weather and growing presence of large carnivores. As grizzly bears and wolves recovered to the region, Sommers has faced new challenges to the family operation.
Over the past 20 years, growing numbers of grizzly bears have caused significant conflicts with livestock in the Upper Green allotments. In the early 2000s, association ranchers experienced about a 2 percent calf mortality, increasing to over 12 percent in 2017. Multiple generations of grizzly bears have learned to feed on cattle, resulting in continued livestock depredation.
Keeping communication open
With conflict between wildlife and livestock comes conflict between people over wildlife and livestock management.
"It is so critical that the land manager, the wildlife manager and the cattle manager, that they are talking to each other to help solve these problems or at least to minimize these problems. All three of those managers have to be talking and interacting with each other in whatever form that exists," says Sommers.
To maintain these relationships, the Association regularly holds meetings where Forest Service and Wyoming Game and Fish representatives share updates with ranchers in the association, while offering time for questions and conversation on topics of concern.
Trust built through regular meetings and collaboration has helped people come together to address common problems and co-create solutions that provide benefit to people and place. Through these meetings, Sommers and the Association have worked with the Forest Service to change pasture rotations in order to reduce livestock's exposure to larkspur, a poisonous plant that kills cattle, leaving their carcasses as attractants to grizzly bears.
Further, Wyoming Game and Fish now works with the Association to train its riders in the detection of predator kills making depredation investigations by the department much more efficient. This communication is aided by a network of radio phones that help cowboys relay livestock depredations to town and Game and Fish in a timely manner.
Lastly, wary collaboration that turned into friendship over time led to assistance from the Greater Yellowstone Coalition in the form of shipping containers to secure attractants at cow camps.
Modeling collaboration for others
Though the Upper Green found space for landowners and agency representatives to work towards common goals, this is not always the case. A lack of collaboration and understanding between these groups can limit the ability to reduce conflict between carnivores and livestock.
Lending a hand to neighboring communities, in a meeting hosted by WLA, Sommers shared the successes of the Association with landowners and agency representatives of the Gravelly Mountains in Montana to help them work together to address growing numbers of conflicts with grizzly bears in the region.
"You really have to develop these relationships with these agency people and then you all have a better understanding of what your challenges are, each other's challenge. It's not just my challenge. Some guy or gal in the Forest Service or Game and Fish has to step kind of into the wind too, right?" said Sommers.
As wolves and grizzly bears move into broader geographies, they tend to elicit strong reactions. In order to address the diverse concerns and conflict between people over carnivore management, local collaborative groups are an important component of a whole system that works to support both working lands and intact carnivore populations.
At WLA we identify the key components of this system as the "Four C's:" Collaboration, (carnivore-livestock) Conflict-prevention, Compensation for livestock losses, and targeted lethal Control of problem carnivores. Working together, these components can assist rural communities in sharing space with wolves and grizzly bears. Through advancing the four C's through policy and practice, we can collectively assist rural communities in adjusting to the growing presence of large carnivores in the American West.
At the end of the day, "success" to Albert Sommers means that "the bears are still here, and I'm still running [cattle] on the same landscape that I've run on and my ancestors have run on for 120 years. Ranches are integral to wildlife habitat in this area and if they go away, it will be a great loss to us all." Wildlife included.