Parallel journeys to the radical center
Text and Photos by Laura Nelson and Becca Skinner.
Laura Nelson
L: They glide through the icy water with apparent ease, their heavy, snow white bodies leaving a trail of beautifully symmetrical v-shaped ripples. It must take enormous effort to swim against the current. The swans navigate it gracefully, occasionally pushing their long necks underwater, rolling stones in search of hidden nourishment. Rising steam from the riverbank crystalizes on the heavy pine boughs behind them, creating an ombre effect of glistening white rising up to meet deep greens, fading again to pure white on the mountain tops that hold the Madison River tight.
We pause the snow coach at a spot where two large trees sweep to the side like open theatre curtains, the swimming swans perfectly placed at center stage. There isn't another vehicle in sight. If this is all we see today, I'm satisfied.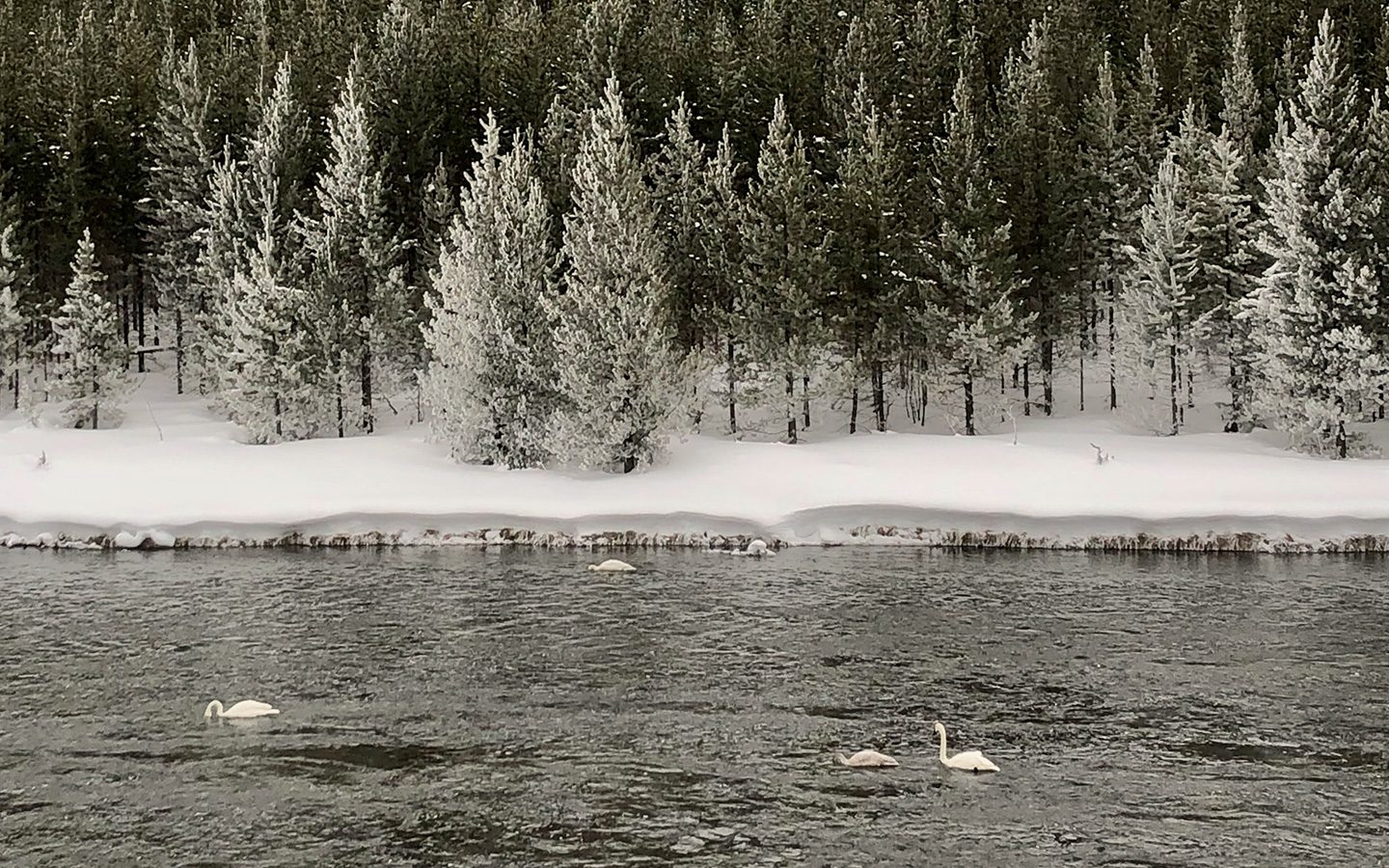 The babbling of the river current fades behind us; snow-heavy clouds hang low ahead. I close my eyes for a moment, praying I'll never lose this sense of awe inspired by our first national park. When I open my eyes again, we've distanced ourselves from the river; the Fountain Flats open the landscape ahead. Four other snow coaches are gathered on the side of the road. We slow, looking south.
Wolves.
Less than 200 yards away, three gather on the flat. The Wapiti pack, our guide says. We creep down the coach's stairs, huddle together and watch breathlessly as the lead distances himself from the other two. He pauses, points his nose skyward, and howls. The wind carries the sound right to us. Soon, a cacophony erupts. Howls, yips and mournful cries echo across the flats. It's not an echo. On the knoll to the east, there are six more. Someone turns back to the coach to retrieve another layer of warmth and with a deep breath, tells us to turn around. One by one, eight more emerge from the trees to the north, leaping over snow drifts to meet their packmates. They give us a wide berth, cross the road ahead, and merge. The pack bows to the alphas, then, a frenzied greeting of licks and yips and rolls.
By now, I'm watching the photographer from the snow coach ahead of us as much as I'm watching the wolves. Our group of watchers has coalesced with theirs. Frozen tears pool under her eyes. Her hands shake with energy. I watch her taking deep, steadying breaths to still her quivering camera. Between shutter clicks, she repeats under her breath, over and over again, "I can't believe this. This is so amazing. I can't believe this. This is so amazing."
She comes to Yellowstone every year to seek the wolves. She has photographed the alpha's mother and grandmother. She's stunned. Breathless. Overwhelmed. While I join the throngs of iPhone photographers gawking at the wild moment, I can't help but turn to snap several of her in this state of deep reverence; I know she'll want to remember herself in this scene, too. Over lunch, we airdrop images between our parties. We've shared a special moment in time.
In the weeks that follow, I hesitate to share this story with certain friends and acquaintances who I fear are likely to scoff. They'll say this would have been a good time to be shooting more than photos; they'll question if these were the predators responsible for irrevocable damage and lost livelihoods. I will, too.
Still, I surprise myself with this feeling of protectiveness, unwilling to share this experience with those who will not hold it with value. This feeling, I realize, is not about the wolves. It's about the one who watches them.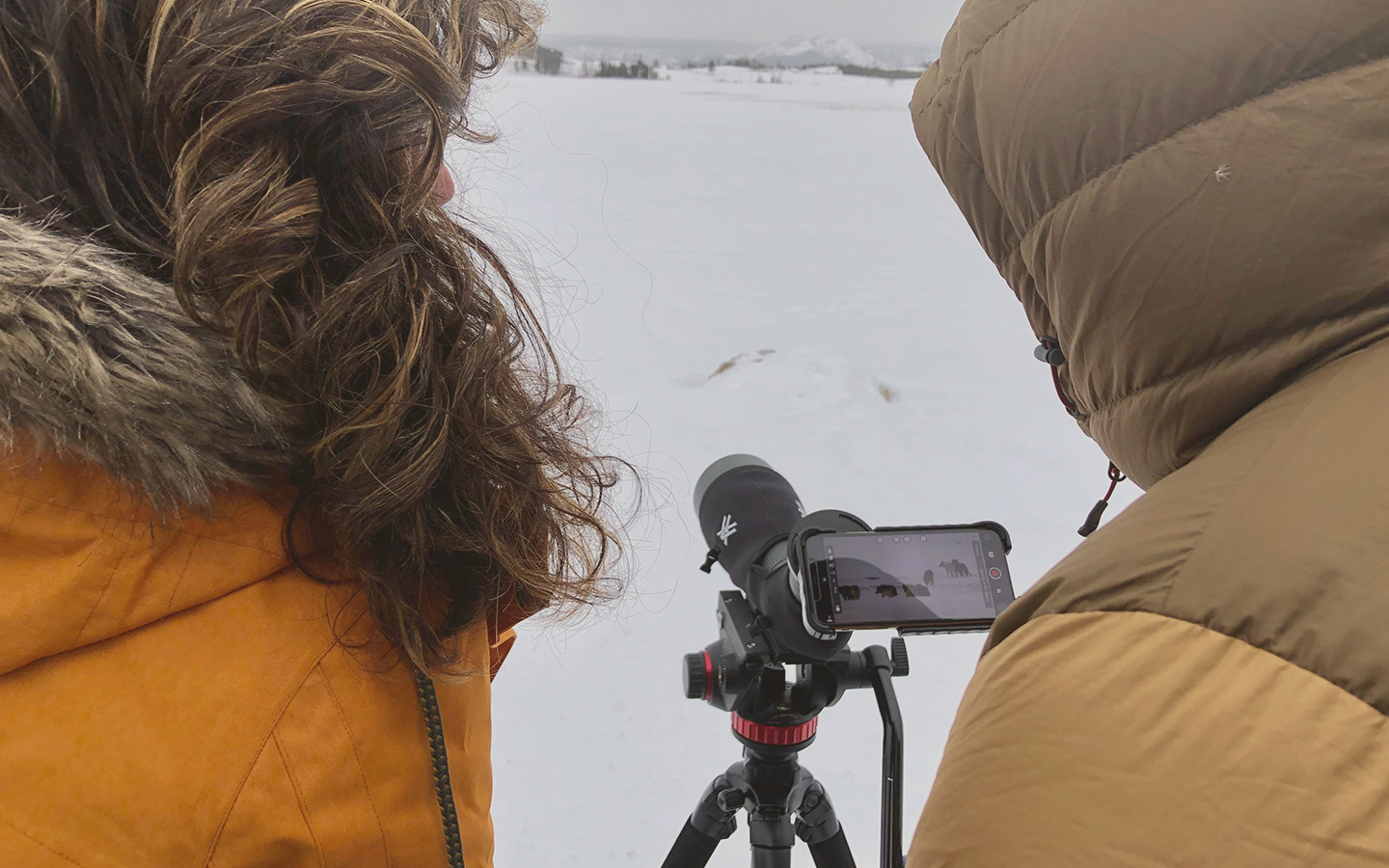 ---
Becca Skinner
B: The simplicity of the days fascinated me. Wake up, feed the cows, check the cows in other pastures and then chores: helping a neighbor, fixing fences. But this was the life this rancher dreamed of: simple and out on the land every day.
We got into the feed truck and drove over rough two-track roads, my camera bouncing around on my lap. But then the truck stopped suddenly and the rancher pointed past me through the window.
"Sage grouse," he said, like he expected it to be there.
I had never seen one.
Thick and heavy snowflakes were falling and I picked up my camera as not one, but four grouse flew up from the sagebrush, their wings beating like drums against the wind and snow. It was a moment that felt like magic conjured just for me. It sealed my unquestionable love for the Northern Great Plains.
A few months later, I was sitting across from a friend at a bar, telling them about my current projects. I explained I had been working on a series of stories about ranchers and farmers, who, through sustainable techniques like intensive grazing rotations, were helping protect the biodiversity of their working landscapes. They managed large swaths of land and could recount the number of sage grouse they had seen last year and where the leks (areas where the grouse perform their characteristic courtship displays) were. They also raised beef.
They managed large swaths of land and could recount the number of sage grouse they had seen last year and where the leks were. They also raised beef.

Becca Skinner
My friend looked at me and said that they didn't believe ranchers' livelihoods were as important as wildlife.
I felt my hackles go up. A few years ago, I would have said, "Right? Why can't everyone see that?" But now I didn't agree. Or at least, not completely.
I don't believe one is more important than the other, or that you can seperate the two groups completely. Without economically viable ranches in the Northern Great Plains, the land faces instead oil and gas development and subdivision. Without wildlife and wildlife habitat, we would be missing an entire chain reaction in the ecosystem.
But in the conversation with my friend, I just shrug. I know where this conversation will lead.
I never thought I'd feel this protective of the ranching community.
Growing Up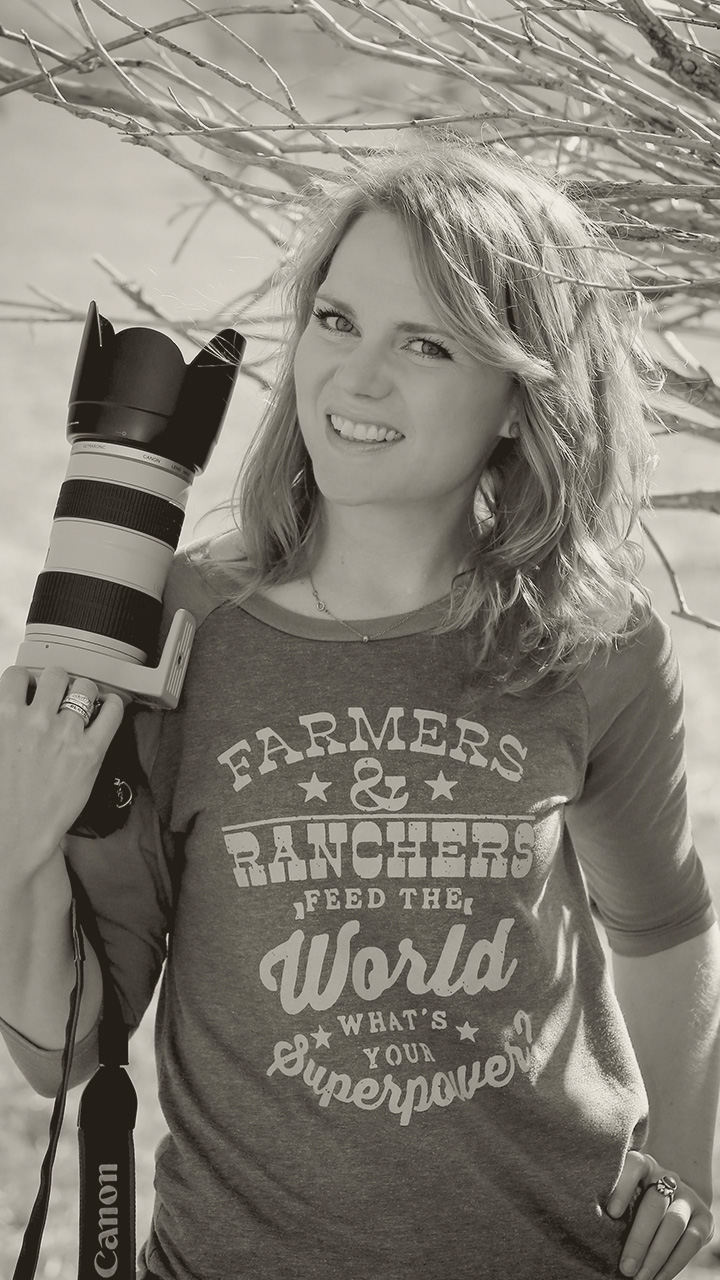 L: Every morning, parked in the barrow ditch of a different long, flat, straight gravel road, I'd rewind and replay the same cassette tape. It was my first summer working alone and music was both company and inspiration. My older sister had graduated; my brother took a summer job cutting his way through the country's bread basket with our uncle's custom wheat harvest crew.
That left me with weeks of solitary work and hundreds of acres stretched out across the western Nebraska plains. The job was to pull unwanted rye out of our wheat fields by hand, walking up and down the strips to remove each clump by the root to ensure a clean crop. Alabama's Greatest Hits was left in that pickup, so by default, it became the summer soundtrack. I ended the cassette and started each day with a dashboard singalong to the chorus of 'Forty hour week (for a livin').' It was Alabama's ode to working people: "You see them every morning in the factories and the fields … working together, likes spokes inside a wheel, they keep this country turnin' 'round."
Here, working lands and working people were synonymous with love.

Laura Nelson
The farmers, the truck drivers, the mechanics… It is a terribly cliché song, but its words placed value on the people and the work I knew and loved. Here, family friends were farming friends, neighbors gathered to brand and care for cattle, exchange equipment with my father, deliver homemade popcorn balls at Christmas and offer hugs and blessings between wooden pews.
Here, working lands and working people were synonymous with love.
I knew that summer, the one where song lyrics and books tucked in dusty lunchpails and empty prairies were my most peaceful companions, that I wanted to tell stories about land and livestock and the working people who kept my world turning.
Several years later, my first 'controversial story' assignment came in freshman Introduction to Journalism class. We picked our topics, then made a 'T' diagram and listed sources and ideas that would present both pros and cons. Nearly a decade after they were re-introduced, Wyoming fought to delist the wolf and gain state control over its management plan. The state lost its lawsuit twice and was forced to yield to federal oversight as wolf packs reached further into ranch pockets.
The goal was to teach me how to write a balanced story, to look at an issue from every angle. But I knew where I stood. 'Ranchers' and 'conservationists' were on opposite sides of the T. The more I looked for 'pros' and 'cons,' the more I saw our lifestyle and livelihood threatened. I would use my words to be an advocate for the people and work that raised me. I would speak for farmers and ranchers.
---
B: The herd of pronghorn moved as if they were floating across the ridgeline in front of me. The light of the sunset outlined their bodies in gold, and their hooves across the Wyoming prairie left a haze of backlit, pink dust behind them.
That was the moment I fell in love with land.
My parents were geologists and adventurers, so our family vacations were to the Wyoming desert to look at rocks. We would camp out and just enjoy wandering wherever our feet took us. Though it was never explicitly spelled out, the purpose of these trips was to spark our curiosity by simply being outside.
Since I can first remember, my family loved the natural world. We grew up in a middle class suburb, but any opportunity my parents had to introduce us to where they fell in love- the Wyoming prairie, they took it. They wanted us to feel the love for the outdoor world so deeply, that they gently worked it into all corners of our daily lives so that we wouldn't feel separate from it.
It's hard to know something is worth protecting until you understand it.
Making our way
L: My first feature story printed in the Angus Journal was headlined "Closed herd, open minds." The Huck brothers, one a retired veterinarian, the other a data junkie, built their cow herd based on the aim to never bring in outside genetics. "We were never happy with what we bought, and we thought we could raise our own better," one of the brothers told me.
At the time, I lived in Ohio but was travelling all over the country to interview farmers and ranchers and write their success stories. My closest friends and co-workers in Ohio were all ranch-raised. We kept to ourselves. I often found myself unsure of conversations that edged outside of familiar territory. My world was a closed herd.
I loved my work, but the West called me back after just three years. My new home in Big Timber, Montana was only eight hours from those Nebraska wheat fields, but in some instances, it seemed like a world away. Here, as the editor of a weekly newspaper, I had to once again think hard about writing for an open audience, considering stories that connected with people outside of my herd.
I learned, struggled, labored to see the human element in every story. My friend group was more diverse than ever here, too. Friends who became like family were hikers, ranchers, artists, administrators, main street business entrepreneurs, miners. I lived in town, and public land became a valuable escape when I longed for cow pastures and endless wheat fields.
I bought my first pair of hiking boots and, dare I say, found they often felt more comfortable than cowboy boots.
---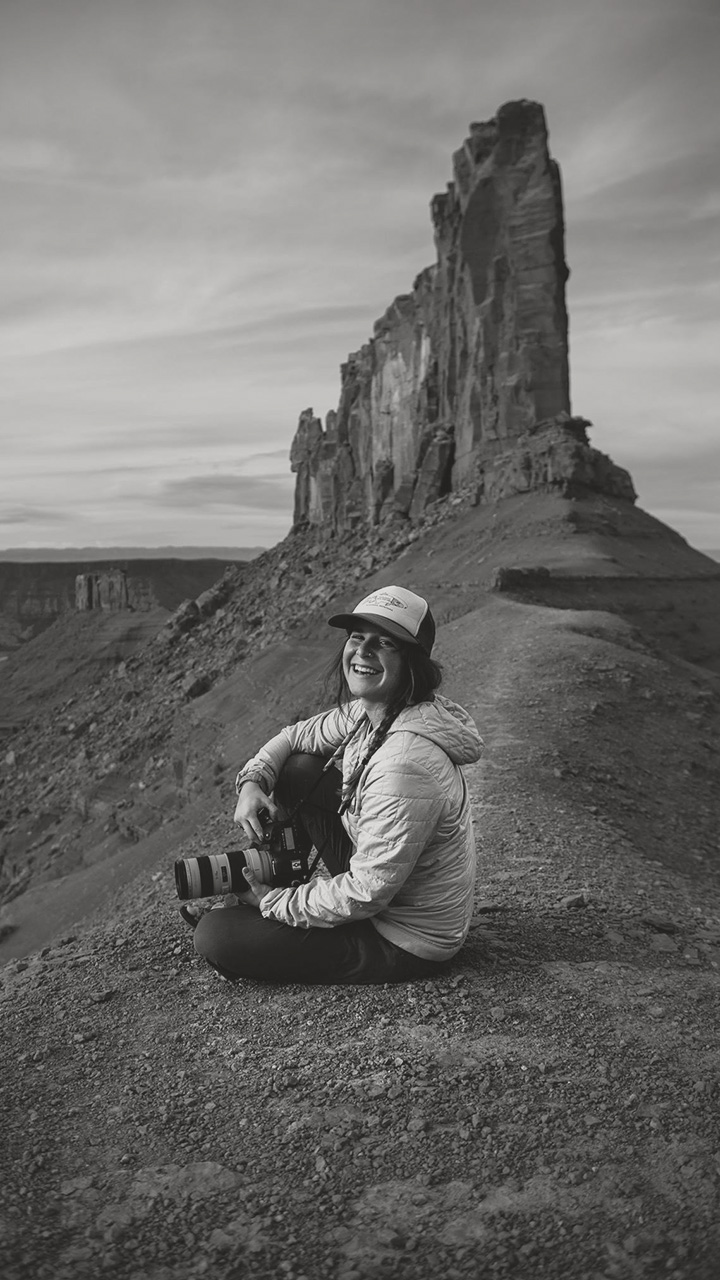 B: I think being taught to love the land with such a fierce type of love sparks a deep and personal hurt when you see parts of it change or be destroyed; shifting into something that you no longer recognize as the thing you once cared about so deeply.
So as an adult, while I was working as an adventure photographer in the outdoor industry, I was gutted when the rollbacks on public land started to happen. Bears Ears National Monument was slashed by 87 percent and Grand Staircase Escalante was cut in half.
The whole outdoor industry turned their eyes and ears to the issue of public land protection. My photo assignments were focused on these phenomenal corners of the world, showing what public lands were and why we should protect them. The idea that just a few private landowners (individuals or corporations) would have access to this place that I wouldn't was heartbreaking.
My home and these places felt far away from each other, like two separate circles that would never touch.
But when I met my husband, those two worlds collided. He had worked with a master gardener to turn almost a full acre of his rural property into a permaculture food forest. His passion for growing food was contagious and I became a partner in the small farm that feeds us and our community.
The more time I spent in the garden, the more I understood. We were stewards of a swath of land that came with bugs, birds and wildlife. Planting flowers wasn't just for bouquets on the kitchen table, it was for the native bees and other bugs that are an integral part of so many food webs, including ours.
Watching big, pollen-drunk bees bump around borage flowers and echinacea was where I fell in love with conservation. Up until then, that word had felt distant and overused. Now I understood that my actions in my small section of private land were impacting a greater world; a world that would outlive me.
The Intersection
L: We sit on grass in the shade of heavy cottonwood trees, the creek titerring past. Grizzly bears, wolves, elk and ranching heritage all repose heavily on the place. I'm surrounded by federal endangered species specialists and biologists on a ranch near Ovando, Montana. They're here to learn how conservationists and ranchers can work together on working lands. I'm here to learn what it's like to walk in their hiking boots.
Greg Neudecker, with the Partners for Fish and Wildlife Program, is one of the tour organizers. I met him through my work with the Environmental Stewardship Award Program, a program that says 'ranchers' and 'conservationists' don't belong on separate sides of the T.
"We need to take more time talking about focal people rather than focal species," Neudecker says. "We have to work together so that we can have sustainable ranching and sustainable wildlife. We need to bring up new leaders on both sides who are willing to have an open mind."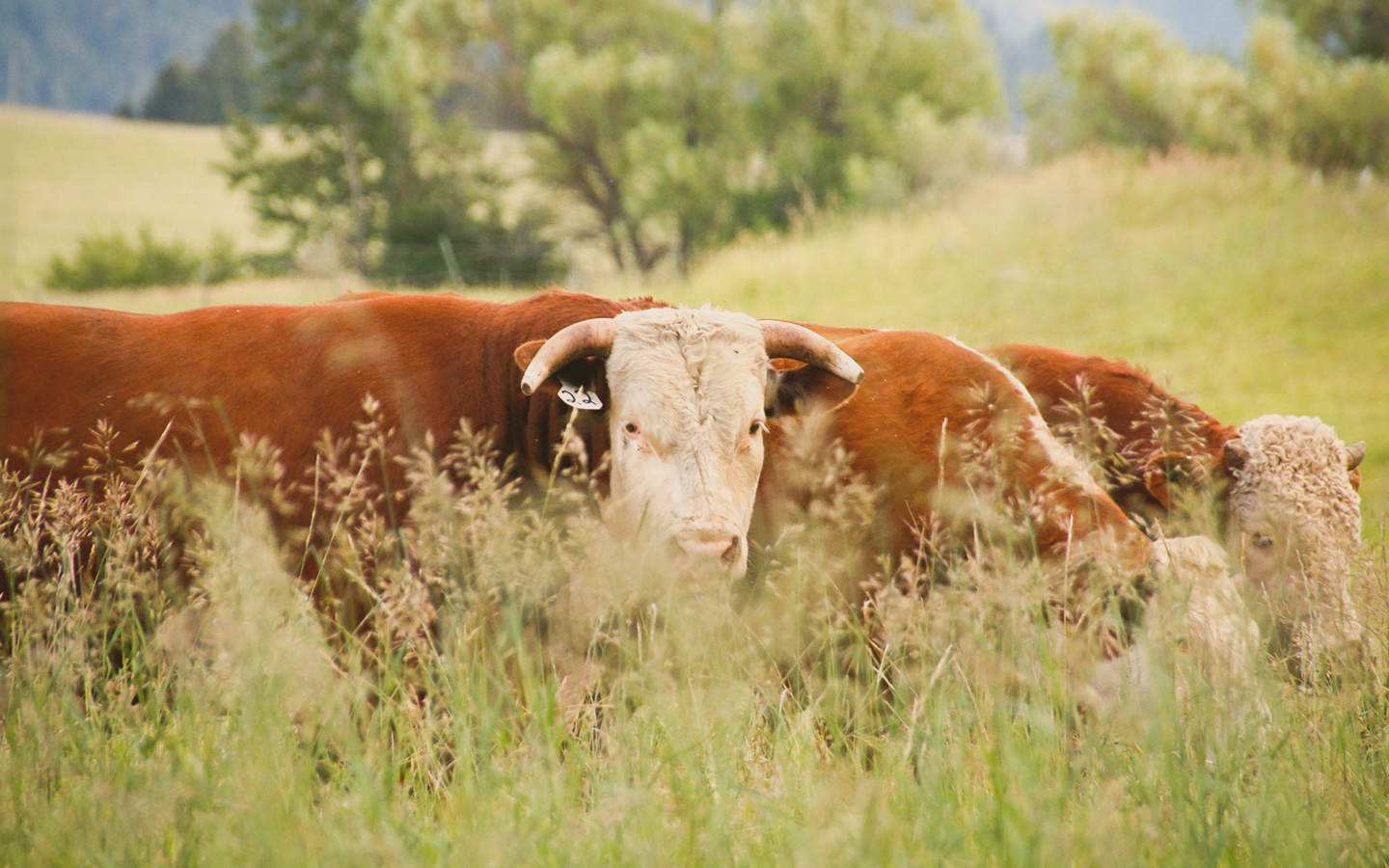 ---
B: It was early summer 2018 when I got an email from Laura Nelson. She had heard me on a recent Mountain and Prairie podcast episode, where I mentioned that I was interested in getting more involved in conservation. Laura invited me to attend an Environmental Stewardship Tour that fall. The invite piqued my interest: it offered an opportunity to meet private landowners who were actively collaborating with local and federal organizations and trying to ranch and farm in ways that were beneficial to the land.
I went, hoping I would make good connections for future work in the public land space. I didn't expect it to send me on an ongoing journey into new work, new fields and a far more intentional way of having conversations about difficult conservation topics.
Watching the ranchers and their agency partners show off their conservation successes together at that ranch near Ovando, I was baffled, curious, and a little embarrassed. I was a conservationist. Big private ranches and the beef industry: wasn't this the enemy? I felt like I had seen a new world, where all my preconceived notions about private land and public land were upside down and inside out. Who was "us," and who was "them?"
I recognized their work as similar to what my partner and I were doing with our permaculture food forest at home. I made conversation with farmers about the weeds and cover crops. Some of the same solutions we were implementing on less than an acre, these farmers and ranchers were trying out on huge scales.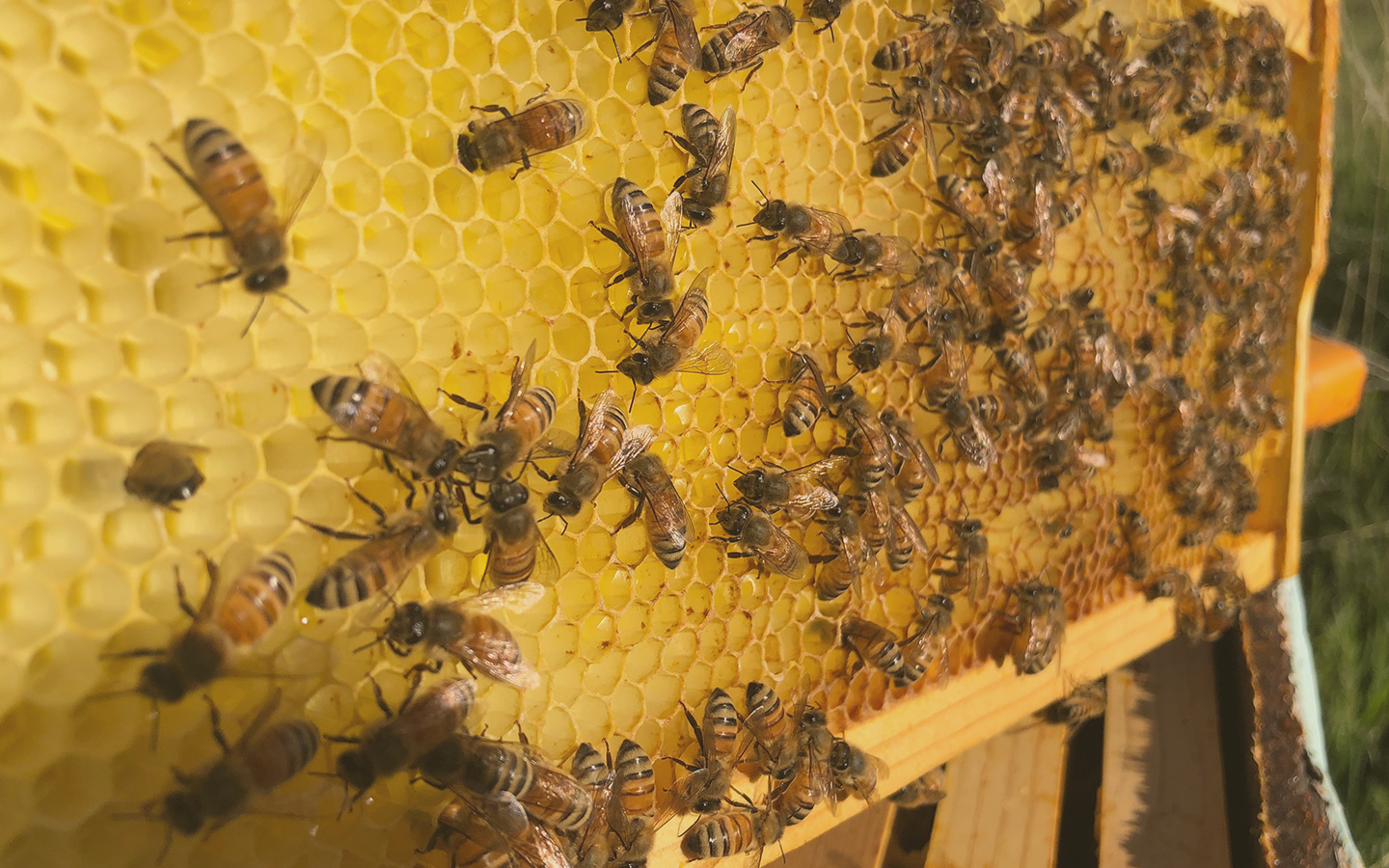 ---
L: We're back near Ovando, on the Two Creek Monture Ranch, for a ranch tour bringing together ranchers, writers, chefs, foodservice professionals and wildlife advocates. In planning the tour, I purposely sought out guests with strong voices on conservation issues, but who don't seem to include agriculturalists and working lands in the discussion. As we balanced our burger-laden paper plates on our laps on the quiet back porch, I was nervous I had pushed the edge too far; that this would be an event that further ingrained the bias I thought she already had.
I was training for a half marathon, logging long miles and hours listening to podcasts when I heard Becca Skinner's interview. A NatGeo explorer and photojournalist, she was a University of Wyoming grad, too, and some of her most cherished childhood memories were made around Lander, Wyoming, near where I made teenage memories at FFA camp. She described an adventurous spirit, the ambition to pursue big dreams and an urge to 'go gently' through life. We could be friends, I thought. But then… a discussion of exploratory work with the Rocky Mountain Wolf Project. Could we find common ground despite this divisive issue?
I braced myself to feel her push against the idea of ranchers having a place on this once-wild landscape. Instead, she leaned in and marveled at what she had learned. I was sad when I realized that before we had met, I had wrongly lined us up on opposite sides of the T.
"I can't believe I didn't know," she told me.
"I can't believe I didn't either," I thought.
The radical center
B: Some people think that being in the center means you are afraid to take a stance, but for me, it's the opposite. As I've navigated this space now for two years, I feel like I no longer fit into a single category. I'm a conservationist that believes in ranchers and supports agriculture. I also think that public land is one of the greatest assets we have in this country. I don't believe that privatizing all land is the solution and neither is making all of it public. I feel like I often straddle two worlds, walking a slackline over two piles of hot coals. At those times, I call Laura.
---
L: I think back to the plaque hanging in my grandparent's office: "Leland Nelson, 1983 Master Conservationist, given by the Omaha World Herald and Institute of Agriculture and Natural Resources, University of Nebraska-Lincoln." This isn't the only one of its kind hanging on that farmhouse wall. I don't think he ever saw a dividing line between 'conservationist' and 'agriculturalist.' But he didn't talk about it either. I don't think he worried about the right words or who was on the wrong side; he just wanted to get his work done. Was the 'radical center' right in front of me all along?
I wonder: is the radical center radical at all? Or is it simply a place where we recognize that dividing lines are barriers to progress? Where we humanize in order to harmonize? Where we swim upstream, paddling like hell to get the work done, but strive to maintain grace and gentility? When these questions feel pressing, I call Becca.
---
We have a lot of questions about the radical center.Living and working here is not glorious. It's hard. It doesn't allow for skating through conversations, or casually dismissing strong opinions. It comes with challenges but grants flexibility. It allows us unsettled feelings and unknown answers. It might not mean that our opinions change, but we recognize that opinions aren't all that define us.
We believe the radical center is a table big enough to prove that the opposite of right isn't always wrong. The radical center is a place of empathy and respect. It's where more than just imagining walking in another person's shoes, we can come to respect their journey. Ultimately, it is where we can find the places where our paths converge and learn to walk together there.