Owl Trees
Most days these warming weeks of late spring the new pup, Huckleberry, and I walk to the Owl Trees near the southeast border of our home meadows. Half this willow stand is dead, the other half gleams with the springreen halo of new leaves. We're looking for owlets. Or I am looking for them. Huck is looking for afterbirth and sticks to eat.
So far, no baby owls. Mother Owl sits in the nest lodged in a crook of low branches; Father stands sentinel in the nearby tallest tree.
In some ways we are as unsettled as everyone else. In other ways, nothing is different. Wobbly newborn calves pop out of mother cows daily. The sandhill cranes made their annual pass overhead on their way south. And cliff swallows arrived yesterday, adhering themselves, and then their mud nests, to the stucco walls of the house. After two months on site, our apprentices are adept at calving season chores, but now it's time for the big change to summer work. Flood irrigating meadows. Moving the mother herd to the range and the yearlings to the river.
But we know that this spring is different. I look for owl chicks in the same way I search for hope. Or a happy moment. Or at least a break from the fug and uncertainty that creeps through the days: coronagloom, with its virgas of fear that, at least for us thus far, has not quite manifested into a downpour of despair and toilet paper hoarding.
I'm also thinking about Persephone, the Goddess of Spring, flowers, grain. And the Underworld.
The story goes that Persephone was abducted by Hades and taken to the Underworld to be his wife and queen. When finally released to return aboveground, she was required to return to the Underworld for a few months each year, having been tricked into eating several pomegranate seeds while there. Once you eat something in the Underworld, you have to stay.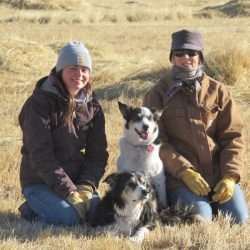 That's the way the story is usually told. But what if she chose this descent to the unknown, chose to explore dormancy, darkness, even death, because she thought there might be merit in the things we usually avoid and often fear? Maybe she thought there would be something worthwhile to bring back above ground, that would serve her as she nourishes new life each spring
What if there is something we're all missing, that we will only find in places we don't like to go? Something we need to know, something that makes sense of it all – the death of beloved old dogs and calves born in a blizzard, as well as the purple party-hat blooms of hyacinth that come up each April, even though I completely forget about them the rest of the year? We're all looking for ballast in this corona tempest: maybe it lurks in the contradictions of life, death, beauty and loss.
Owls are feared in some cultures, harbingers of death. In other cultures, they are the wise sages. Like most things, they are both darkness and light. While we might consider that two-faced, it also makes a whole. The cycles of bloom and birth to decline, Persephone (and owls) are all of these things.
We in the Western World tend to want things tidy and one-sided; we don't like paradox much, and we aren't good at handling it. After 20 years ranching, I'm comfortable saying that agrarians and pastoralists are more able than most to wrestle with paradox, since it's built into our livelihoods. We raise animals we love to be eaten by others. We watch weather change a year from bounty to bust. Even so, this pandemic moment throws us down into the Unknown Unseen Underworld where we are surrounded by things we don't understand and can't control.
Today I saw the owl chicks—unkempt balls of fluff. Judging by their size and feathers, they've been there for weeks. Why didn't I see them earlier? I don't always perceive what is right in front of me; none of us do. Coronavirus is bringing to light many things we didn't see, didn't want to know: our broken food and education and healthcare systems, our overwhelmed families and our soul-tired, overworked selves. It's also filling city streets with kangaroos and coyotes, and clearing the skies of smog and contrails to reveal their truest blue. What else might re-emerge?
This pandemic moment makes clear that, like Persephone, we have no choice but to acknowledge uncertainty and loss as part of living. But the surging spring and baby owls give me hope that we'll find what we need to nurture a better version of our world.